Chancellor Angela Merkel, leader of Germany's conservative Christian Democrats (CDU), is set to meet Social Democrats (SPD) leader Martin Schulz on Wednesday evening for the first unmediated discussions about whether to extend the country's current "grand coalition" government.
After their worst electoral performance in post-war German history, the SPD is wary about signing on for another stint as the junior partners to the CDU, along with their Bavarian sister party, the Christian Social Union (CSU). Indeed, Schulz twice categorically dismissed another grand coalition before being forced to change his position.
"It certainly wasn't a very good idea to rule out entering into another grand coalition so soon," political scientist Lothar Probst of Bremen University told DW. "But naturally the SPD still feels the pains of two grand coalitions in nine years, and many members of the grass roots — and not only there — feel that another one would be to their detriment."
Read more: What you need to know about another Angela Merkel-led grand coalition in Germany
Negotiations expert Wolfgang Bosch advertises himself as someone who assists people in overcoming "feelings of helplessness in the face of overwhelming partners" — a phrase that could accurately describe the Social Democrats at present. What would his advice be to Schulz and company?
"I'd encourage them to go into talks without too many preconceived notions and free themselves from their misgivings after four years of a grand coalition," Bosch told DW. "They should go into the talks with confidence and inner strength and say: 'We're the SPD — we've been around for 150 years."
Bosch added that it's very important for Merkel, CSU leader Horst Seehofer and Schulz to meet on their own to "vent their frustrations" and clear the air before proper talks commence. Schulz in particular seemed to take his defeat by Merkel in Germany's September 24 national election personally. If those two can't work together there is no chance of a grand coalition.
And even if they do, any deal will be a long time in the making.
A very German distinction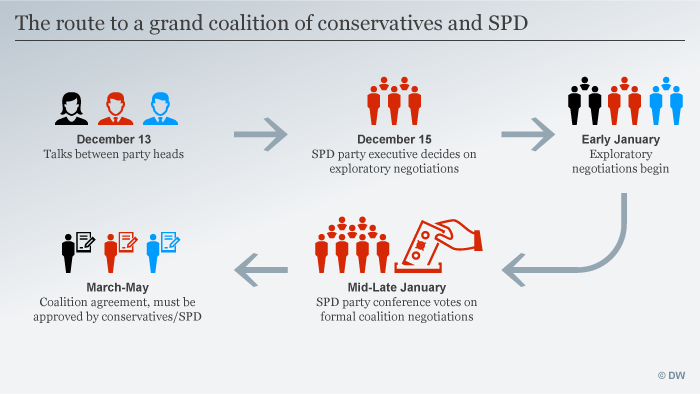 One unusual facet of coalition negotiations in Germany is the strict distinction politicians usually make between "exploratory negotiations" and "formal negotiations." In essence it's a way for rival parties to ease their way into the really hard bargaining.
"Whenever it's difficult to form a government, they try in advance to explore whether they have enough in common even to start negotiating," Probst explained.
Exploratory negotiations are expected to take up at least the first half of January. If the parties reach a general agreement, there will be a short break, during which the SPD rank-and-file will be asked to authorize formal negotiations. The expectation would then be that a deal would be reached, although the final coalition agreement could take up until May to formalize.
Schulz has been at pains to suggest that the results of talks at this stage are "open" — which is to say they could fail. That was the case with Merkel's first attempt to form a so-called "Jamaica coalition" in October and November with the center-right Free Democrats (FDP) and Greens.
Basic negotiating blunders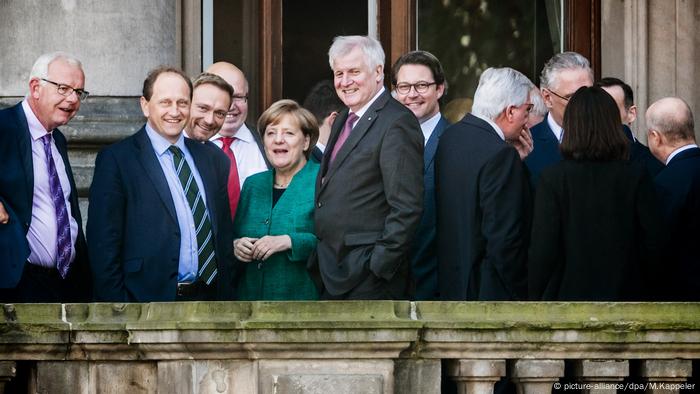 There were too many people involved in the ultimately fruitless attempt to form a 'Jamaica' coalition
One goal of the current talks is to avoid repeating the mistakes of the previous ones. Merkel has negotiated three governments in the past, including two grand coalitions. But that didn't prevent things from going awry in her efforts to put together a new government this time around. Bosch believes the Jamaica talks suffered from "basic negotiating mistakes," arguing that the easing phase of preliminary talks wasn't concluded before difficult, detailed ones were allowed to commence. And that wasn't the only problem.
"They started with much too large a group — 50 people from four parties, which was foolish," Bosch said. "That can't work. If negotiating groups are too large, especially when ambitious people like politicians are involved, someone always feels disadvantaged and tweets something out that hurts the other parties."
That is essentially what happened in November, when FDP leader Christian Lindner decided he wasn't being given enough concessions and pulled his party out of the talks in a huff. There was nothing that Merkel, despite her renowned flexibility on policy, could do to moderate.
"I'm either a mediator open to the interests of everyone concerned, or I lead a negotiation team, but not both," Bosch explained. "Maybe it would have been a good idea to call in an outside negotiations expert as a mediator at some point in the exploratory talks."
Together or apart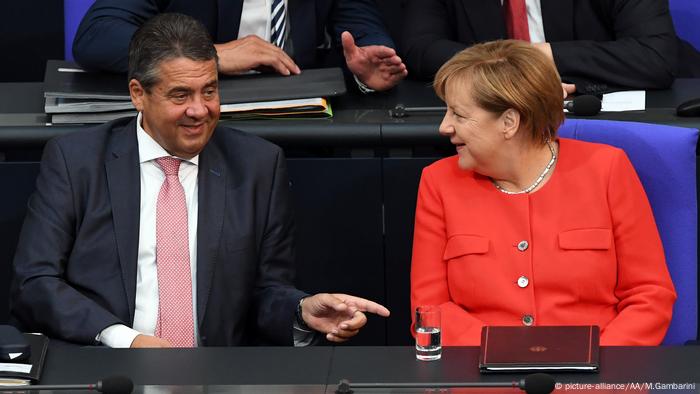 Merkel has proven very able to get along with Social Democrats like German Foreign Minister Sigmar Gabriel
The present goal for Merkel is to reach compromises with the SPD. Commentators have identified three mains areas of discord: the SPD's desire for compulsory state health insurance for all, Schulz's vision of the EU as a "United States of Europe" and his party's insistence that family members of refugees to Germany be allowed to join their loved ones.
When asked about potential sticking points, Probst highlighted the social-equity issues like health insurance. On the eve of Schulz's talks with Merkel and Seehofer, some within the SPD suggested the idea of a limited "cooperation coalition" covering only certain basic common aims, while allowing room for disagreement elsewhere. Probst believes that is scarcely feasible.
"Angela Merkel doesn't want that at all," he said. "Especially in the current situation with so many crises in and around Europe, she wants a stable government. Unless something major changes, she won't agree to that idea — or at least she'll fend it off for as long as possible."
The good news for advocates of a grand coalition is that although differences abound, the CDU/CSU and SPD have shown that they can work together in the past. In fact they're cooperating right now.
"What speaks for such negotiations is that they're working together in the caretaker government," said Bosch.
Still, he estimates the chances that this round of talks will succeed where the last failed at no better than 50-50.
"I think the SPD is going to keep the option open for a very long time of ending talks and accepting the risk and effort entailed by a new election," Bosch said.