The former president of the Central Council of Jews in Germany, Charlotte Knobloch, has expressed her concern at the fact that the right-wing populist party Alternative for Germany (AfD) has entered the German Bundestag.
"It pains me that a party that tolerates not just historical misrepresentation and anti-Semitism but also racism, far-right extremism and populist nationalism in its ranks was able to become the third-strongest in Germany," Knobloch told the Passauer Neue Presse in an interview published on Saturday for International Holocaust Remembrance Day.
"Here, an anti-modern, anti-democratic and anti-liberal destructive power is at work that challenges the prevailing collective consensus" formed on the basis of the lessons of history, Knobloch said.
Read more: Germany's AfD draws backlash for Bundestag committee chair nominees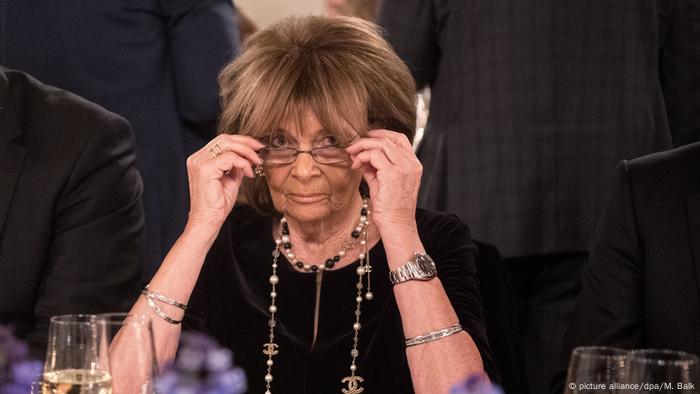 Knobloch warned that anti-Semitism in Germany did not just come from the far right
Growing popularity
The AfD received 12.6 percent of the vote at German federal elections in September last year, coming third to Chancellor Angela Merkel's conservative CDU/CSU bloc on 33 percent and the Social Democrats (SPD) on just 20 percent.
The result meant that the populist party entered the German Bundestag for the first time, having gained 92 seats in the 709-seat assembly. If the current coalition talks between the CDU/CSU and SPD result in a working government, it will become the largest opposition party.
The AfD is also present in 14 of 16 state parliaments in Germany.
Read more: The far-right AfD in the Bundestag: What you need to know
Warning on anti-Semitism
Knobloch also warned of what she described as a "very strong and very aggressive" form of anti-Semitism present among Muslims living in Germany and called on Muslim associations and institutions to combat radical elements in their own communities.
Read more: German parliament creates anti-Semitism commissioner post
Her remarks were echoed by the current president of the Council of Jews in Germany, Josef Schuster.
In an interview with the newspaper Westfalen-Blatt, he said it was a welcome development that integration courses for migrants were to focus more on learning about German history.
Germany has taken January 27 as its Memorial Day for the Victims of National Socialism, that being the date when Soviet troops liberated the concentration camp of Auschwitz in 1945. Some 1.1 million people, most of them Jews, were murdered there from 1940 to 1945.
Knobloch, who was born in Munich in 1932, survived the mass killing of Jews under the National Socialism regime in a country hideout.
Read more: Educating against anti-Semitism: German students visit concentration camp
tj/rc (KNA, dpa)