It's entirely possible that nobody in Joachim Löw's starting eleven against Poland will play versus Portugal in Germany's opening World Cup group game. Reason enough to write off this strangely-scheduled fixture - just ahead of the German Cup final between Bayern Munich and Borussia Dortmund - as a total waste of preparation time.
The missing German stars from the two Bundesliga giants are problematic enough, eight or more of them are likely to play against Portugal. But add in Dortmund's Polish trio of Robert Lewandowski, Lukasz Piszczek and Jakub Blaszczykowski - also unavailable, of course - and the recipe for disappointment appears complete.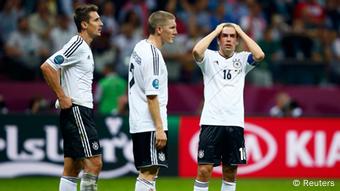 No Lahm, no Schweinsteiger, no Klose: Pick your Germany favorite and the chances are he's missing against Poland
Joachim Löw played down the importance of this personnel absence ahead of the game, saying his main wish was to see some "great football." Löw said the unfamiliar faces were no reason "to declare a national soccer emergency," saying an exuberant side playing "with joy" would set the ideal tone for the preparations for Brazil.
Yet Löw's response, the perfect message to a young squad that's likely nervous even ahead of a friendly, might well have understated his true feelings about the runout's usefulness.
Before disregarding the match as some irrelevant entertainment in Hamburg ahead of HSV's relegation playoff with Greuther Fürth, consider the next task at hand in Löw's World Cup preparation. By June 2, his provisional World Cup squad of 30 must be whittled down to 23.
Ten of the 30 hopefuls for Brazil do feature in the squad, and it seems safe to assume that several - if not all - of the unlucky seven left at home will hail from their ranks.
Mystery starting 11
Ron-Robert Zieler is the exception to that rule, presuming that Löw intends to take a full compliment of three goalies. Considering Zieler was chosen over Marc-Andre ter Stegen for the third spot, he also seems the safest individual bet for a start on Tuesday night: playing ter Stegen now could offer Löw no World Cup insight other than perhaps regret.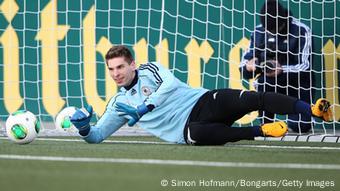 Not the most popular World Cup pick: But will Zieler get a chance to prove doubters wrong?
A similar logic should apply at the other end with Kevin Volland. The only out-and-out attacker available on the night is also Löw's extra choice up-front behind Miroslav Klose. Considering the attacking options among Germany's stated "midfielders" (Thomas Müller, Mario Götze, Mesut Özil, Lukas Podolski and Andre Schürrle all spring to mind), Volland still seems an outside shot at World Cup nomination. Still uncapped at the senior level, the time has surely struck for Löw to grant the Hoffenheim star his debut.
After that, the only thing one can say with any certainty about the German starting eleven is that its average age will be 23 or less. Benedikt Höwedes, 26, is the oldest player in the entire squad.
Höwedes would seem another lock for a start, perhaps at his preferred spot in the center of defense, even a candidate as captain for the night, considering that he wears the armband for Schalke. Then again, perhaps Löw and assistant Hansi Flick are confident that they have seen enough of the Royal Blues' defensive boss.
The second-most experienced player in the squad Lars Bender, with 17 caps to Höwedes' 18, is likely to be fit, according to cautious comments from Flick in the pre-match press conference.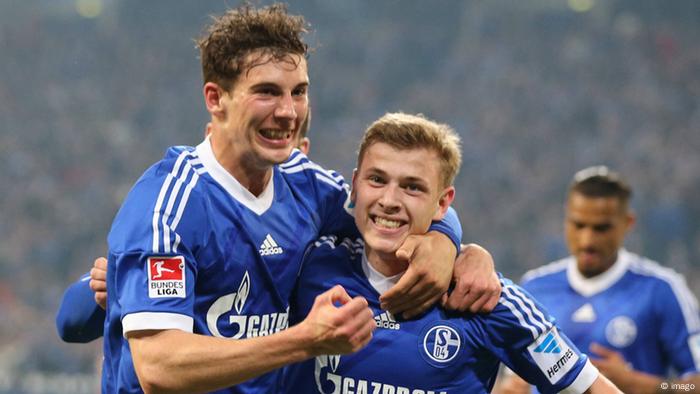 Schalke's midfield youngsters Goretzka and Meyer may not make Brazil, but look well on course for Russia and Qatar
Debuts guaranteed
Volland will most likely be joined on the pitch by other debutantes. Freiburg's left-back Christian Günter (22), Schalke's midfield all-rounder Leon Goretzka (19), his teen teammate Max Meyer (18), Sampdoria defender Shkodran Mustafi (22) and Augbsurg's surprise star Andre Hahn (23) appear top candidates for a first Germany appearance.
Twenty-year-old center-back Matthias Ginter, currently at Freiburg but a possible summer signing for Borussia Dortmund, might also hope to add a Germany start to his solitary substitute's appearance against Chile - lasting less than five minutes.
Ginter, Goretzka, Hahn, Mustafi, and Meyer are all members of the 30-player provisional squad also considered unlikely to make Löw's final cut - for them, if nobody else, Tuesday's match is anything but meaningless.