A minor dust-up between Ankara and Berlin continued Sunday as Turkish officials showed no sign of allowing German political delegations to visit a NATO air base in Incirlik near Adana, Turkey.
The Turkish government last month banned German lawmakers from visiting the base. It said the country permits only military or technical teams to visit military installations.
Following a diplomatic push by Berlin, Ankara relented and allowed Germany's defense minister to access the base last week .
Now, several German lawmakers said the country's soldiers should be withdrawn if Ankara continues to prevent parliamentarians from visiting the station. The soldiers are part of an international mission protecting Turkey from potential Syrian military and missile attacks.
Germany's Green party co-leader Cem Özdemir told German broadcaster ARD that the current ban is unacceptable.
"As lawmakers who send soldiers to places, we must know where they are, how they are and be able to talk to the soldiers," Özdemir said. "If that is not possible in Turkey, then the soldiers must come back to Germany."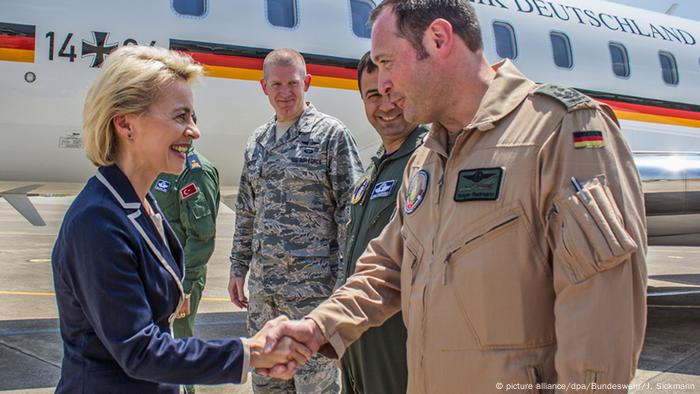 German Defense Minister Ursula von der Leyen visited Incirlik last week
Turkey won't give ground
Attempting to quiet the storm, Merkel said political delegations have the right to visit Germany's airmen who are based with a Tornado squadron near the Syrian and Iraqi borders.
"It's important that our ministers can travel to Incirlik and visit our soldiers," Merkel said in an interview on German broadcaster ZDF.
Relations between Germany and Turkey, a crucial partner in the EU's effort to hold back refugees from entering Europe, have been strained in recent months.
President Recep Tayyip Erdogan was angered by the broadcast of a satirical song about him on German television and in April launched legal action against the comedian Jan Böhmermann. A Bundestag resolution calling the 1915 killings of Ottoman Armenians genocide last month has compounded the rift.
Merkel and the Turkish president met on Saturday on the sidelines of a NATO summit in Warsaw for the first time since the parliament vote, but failed to come to an agreement on access to Germany's troops in Turkey.
"It's not the first time in the history of politics that a first discussion was not enough," Merkel said of the meeting with Erdogan.
jar/sms (AP, dpa, Reuters)