"Die Welt" said that its tally, found while surveying Germany's regional states or Länder, could end up even higher than the 17 billion ($18.6 billion) estimated, because its calculations had been based on 800,000 refugees.
As 2015 closes, arrivals this year are now put by German authorities at around one million. However, the final figure will likely depend on the rates of acceptance or rejection of asylum applications.
Facing the highest bill will be Germany's most populous state, North Rhine-Westphalia, followed by Bavaria, where most of the refugees first arrive. One of Germany's small states, Saarland, currently reckons with 100 million euros in supplementary refugee-related costs in 2016.
The costs are but a portion of burden-sharing agreed in October by the Länder and Germany's federal government. In December, a research institute said the situation was manageable.
Wanted: 25,000 extra teachers
Marlis Tepe, who chairs the teachers' education and science union GEW, urged school authorities to quickly do their calculations on the basis that 300,000 children were among the newly arrived asylum seekers in Germany.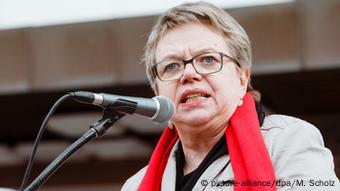 An extra 25,000 teachers needed, estimates Tepe's GEW
"Our formula says for every 100,000 new pupils we need 8,250 teachers," Tepe said, adding that for 2016 there was a set of refugee-related questions.
"How many new teachers do we need in Germany, how many [teacher] training positions do we need at university, and how many do we need in work experience positions?"
Established teachers also needed supplementary training on how to interact with migrant children, Tepe told the German news agency DPA.
Integration continuous task
German language promotion was a continuous and central task, and went far beyond just quick welcome courses, said Claudia Bogedan, education senator in Bremen, Germany's small, northern city-state.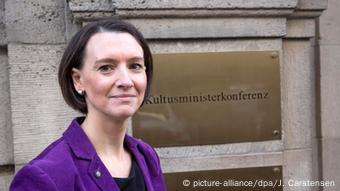 Language education essential, says KMK's Bogedan
Bogedan is the new president of the Bonn-based KMK or Culture Ministers' Conference, a key administrative group that handles education in the country's 16 Länder.
Education is regarded under Germany's constitutional setup as a subordinate element of culture, which, in turn, is the legislative prerogative of the Länder.
The KMK dates back to 1948, when post-war West Germany was still in its infancy. Regions of former East Germany joined during reunification in 1990.
Rapid preparation urged
The education senator for the city-state of Hamburg, Ties Rabe, said all 16 Länder must rapidly prepare their schools for the new arrivals.
"The refugees are here, and every day without schooling is a lost day. I would like these children to immediately grasp that school is an implicit part of Germany," Rabe said.
For schooling alone, Germany faced an annual refugee outlay of two billion euros, he said.
Commissioner rejects Bavarian call
Federal Integration Commissioner Aydan Özuguz on Tuesday rejected a demand by Bavaria's governing Christian Social Union (CSU) party that newcomers attend German language courses and classes about the country's constitution and laws, or face cuts to their monetary benefits.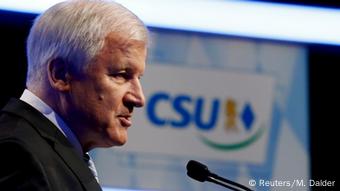 Sanctions suggested for refugees by Seehofer's CSU
Özuguz, a Social Democrat (SPD) in the grand coalition cabinet, accused Bavarian premier Horst Seehofer's CSU of "throwing smoke bombs to foster resentments."
Did the conservatives want to create a "thought-police," she asked rhetorically.
Opposition Greens' parliamentary group leader Katrin Göring-Eckardt accused the CSU of populisim.
"We will not reach the hearts and minds of refugees by getting a signature on a piece of paper or even less so through sanctions," she said.
Readiness to assist
A poll conducted by the Social Science Institute of Germany's combined EKD Protestant churches published last week found that 51 percent of those questioned were ready to assist at a refugee shelter in their neighborhood.
Eleven percent had already done so. And, 88 percent said the assistance so far for those facing existential loss would work out positively for Germany.
Among the 2,021 people sampled in the representative study, 37 percent said they had already donated items to refugees. A further 48 percent could imagine making such donations in the future. And, 13 percent were even ready to take in refugees.
Asked if Germany was prepared for the challenge, only 16 percent replied with "certainly not." A majority of 60 percent did not want to give a binding answer.
Worries over far-right extremism
The respondents' greatest worry was a surge in far-right extremism. Almost 85 percent said this aspect worried them, just ahead of the concern that the accommodation market could become increasingly tight.
"Skepticism and confidence are holding the balance," said the president of the EKD's social welfare Diakonie network, Ulrich Lilie.
"The chances for a successful integration appear good, but we must meet these challenges with prudent and well-coordinated professional actions," he said.
ipj/msh (epd, dpa, KNA)