The German government announced its intention to buy the home where renowned German author and Nobel laureate Thomas Mann lived in the Los Angeles with his family between 1942 and 1952.
"I thank all who have helped so that we can hopefully prevent an impending private sale," Foreign Minister Frank-Walter Steinmeier told the Bundestag on Thursday.
The history-steeped house is listed at around $15 million (13.3. million euros). Should the sale go through to Germany, the house will become a place of cultural exchange and a meeting place for young writers.
In terms of potential buyers, Germany is "first in line," assured Bernd Fabritius who heads the cultural relations and education policy subcommittee.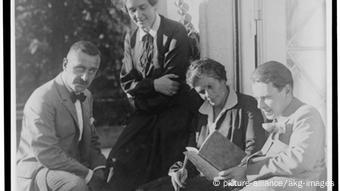 Mann lived with his family in exile in the California villa from 1942 to 1952
"That means we are first place among potential buyers," explained Fabritius to the German dpa news agency. "Now the details are being negotiated."
The house at 1550 San Remo Drive in the Pacific Palisades is well-known to literature fans. It's the home where Mann worked on his later literary works "Doctor Faustus," "Lotte in Weimar," and "Joseph and His Brothers." The Mann family lived in the villa after fleeing from Nazi-ruled Germany.
The possibility of the house's eventual demolition caused an outcry in Germany, with several German intellectuals and art curators calling on the government to buy the property. An online petition to save the Mann villa has gathered around 3,000 signatures, including Herta Müller, who won the 2009 Nobel Prize for Literature.
"It would be simply intolerable if this important place of exile were to be demolished," Fabritius said.
In the future, the Mann house could possibly work in cooperation with the nearby Villa Aurora - the former home of German-Jewish novelist and playwright Lion Feuchtwanger, according to German Ministry plans. Villa Aurora has been a gathering place for German-American cultural exchange since 1994.
rs/sms (dpa, EFE)