Organized criminals are stepping out of the shadows to make a profit in Europe's largest economy, Germany.
That is at least what prosecutors tried to convince a regional court in Cologne of in a showcase trial that ended April 9.
The defendants came away with sentences ranging from three and a half years to just over four years in prison, but the trial raised the issue of influential Italian Mafiosi holding sway in political and economic circles in major German cities.
The court ruled out any connection between the four defendants, all of whom were Italian, and organized crime, as many German media had speculated. Instead the court found the men guilty of using 17 fake businesses to scam the German state out of €6 million (4.32 million euros) in taxes and social security payments.
Soft punishment
Some observers criticized the verdict as too lax.
"It's disappointing that an entire system of straw businesses could be established yet the sentences were kept so mild," said Anna Neifer, part of a group of investigative journalists who recently reported on the connection between Germany's construction industry and organized crime in Italy.
"According to documents we analyzed, there was very likely a connection between several of the defendants and a former Mafioso," Neifer added.
The joint investigation, which involved journalists from public broadcaster Westdeutscher Rundfunk, newspaper publisher Funke Mediengruppe and the influential German newsmagazine Der Spiegel, found that Germany offers an optimal atmosphere for the Italian mafia.
An insufficient legal system
The report suggested Italian crime families make their money by exploiting various industries from construction to trade in counterfeit brand-name products and even gourmet food.
When it comes to dismantling felonious structures allowing crime families to operate with impunity in Germany however, authorities often find themselves at the mercy of a legal system that prevents them from coming down harder on suspected gangsters.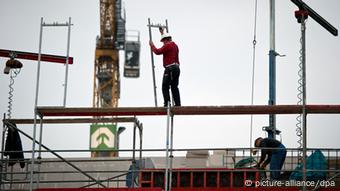 The construction industry is one of the major targets of organized crime.
Laws in Germany restricting organized crime are less strict than in Italy, allowing many clan members to live and pursue illegitimate business interests here with impunity.
Critics also say Germany lacks the political will to invest more resources in combating organized crime, instead preferring to focus the limited muscle it has at deterring terrorism.
"Political decision makers are basically unaware that we even have such criminal structures here," Oliver Malchow, the head of Germany's police union, told DW.