The new, international survey published on Wednesday by British research institute Ipsos MORI looked at how respondents perceived key issues about their countries, including the number of Muslims that lived there.
The study found that on average Germans estimated that Muslims made up 21 percent of the country's population. In fact, they make up about 5 percent.
Germany's Interior Ministry confirmed on Wednesday that between 4.4 million and 4.7 million Muslims lived in the country as of December 31, 2015, a notable increase from the last time the government did a survey of the Muslim population, back in 2011.
Overall, the Muslim population in Germany has increased by roughly 1.2 million since that last study was conducted, the ministry said. It's the first time the number of Muslims has risen above 5 percent of the population in Germany.
Germany saw a record number of migrants enter the country in 2015. Around 2.14 million new arrivals were registered in the country last year, a 46 percent increase from the previous year. The group includes asylum seekers, but also from other EU member states.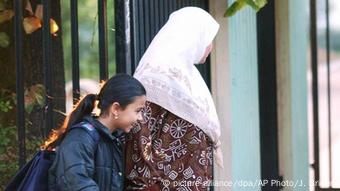 French respondents also greatly overestimated the number of Muslims in their country
A worldwide trend
The Ipsos MORI poll found that people in other countries also greatly overestimated their nation's Muslim population. French respondents, for example, estimated that 31 percent of the population was Muslim - a far cry from the the 7.5 percent found by a Pew Research survey in 2010.
The French on average also said they expected the Muslims to make up about 40 percent of the population in four years' time, when a recent Pew Research survey puts the actual estimate at around 8.3 percent.
Italians and Belgians also overestimated the number of Muslims, incorrectly suggesting that more than a fifth of the population falls into that group. The actual percentages for Italy and Belgium are 3.7 percent and 7 percent, respectively.
blc/sms (dpa, KNA, AFP)