It took two days before the Turkish government reacted to the news that Germany's Bundesnachrichtendienst (BND), the country's foreign intelligence agency, had allegedly been spying on Turkey for years.
On Monday, the Foreign Ministry in Ankara summoned Germany's ambassador Eberhard Pohl, making it clear that the surveillance is unacceptable and must stop.
Foreign Minister Davutoglu called Germany's behaviour "inexcusable." There were principles of interaction that must always be considered, he said, adding the German government owed Turkey an explanation. Davutoglu, favored to take over the post of premier after new President Recep Tayyip Erdogan takes office, said he would discuss the issue with German Foreign Minister Frank-Walter Steinmeier on the phone.
Moral responsibility
But Ankara is not interested in pouring oil into the flames, unnamed government officials told Turkey's "Cumhuriyet" newspaper. For experts, it doesn't come as a surprise that Berlin spied on its NATO partner Turkey. It's a fact that states spy on each other, Ali Tuygan, a former senior official in the Foreign Ministry, told the paper.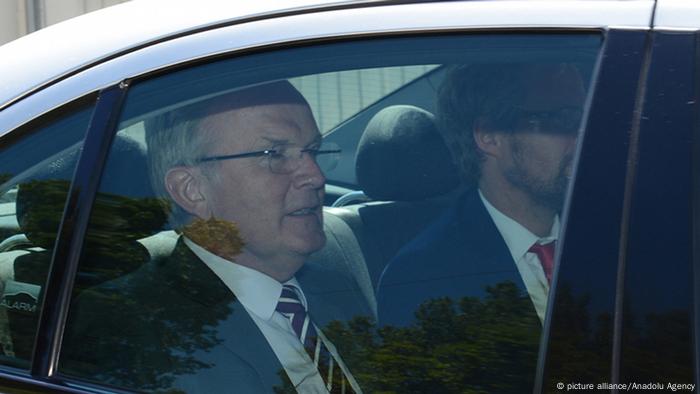 Summoned in Ankara: Ambassador Eberhard Pohl
All the same, the scandal is not bound to leave Turkish-German relations completely unscathed, says Onur Öymen, a former Turkish Ambassador to Germany. "Trust has been damaged, and that will have consequences for the degree of bilateral cooperation and support." He pointed at the ruffled feathers between Berlin and Washington after the German government found out the NSA had tapped Chancellor Angela Merkel's phone. "There could be similar problems between Turkey and Germany," he told DW.
Not the first time
This is not the first time that accusations of spying impact the political climate between the two countries. In 2002, a court in Ankara started proceedings against representatives of German political foundations in the country. The prosecution alleged they were trying to destabilize Turkey. The trial ended with acquittals.
Turkish spies in Germany have also made waves in the past. In 1990, 15 suspected agents from the Turkish intelligence agency MIT were forced to leave Germany because they had threatened members of the opposition. According to media reports, Germany declared seven other MIT agents persona non grata ten years later.
Complex ties
The BND scandal will result in a diplomatic spat, says Nihat Ali Özcan of the Ankara-based Tepav think tank, but he adds it won't touch the close ties between Turkey and Germany.
"Relations are so complex that there won't be a serious crisis," Özcan told DW, pointing at the states' economic, cultural and social interrelations. Both sides know that all countries spy "as far as their financial and technical capabilities allow," he says.
But a formal German apology could help make amends, says ex-Ambassador Öymen. "There are other methods than spying to solve problems: you can talk to each other," Öymen says.
Tepav expert Özcan, too, is convinced that a German apology would help. He isn't hopeful, however, that it is forthcoming.