The national executive of the right-wing populist Alternative for Germany (AfD) party on Monday officially reprimanded Bundestag member Jens Maier over a racist tweet but stopped short of throwing him out.
The decision to give a warning to Maier was unanimous, a spokesman said, adding that the parliamentarian from Saxony had officially apologized for his comment targeting Noah Becker, the son of retired German tennis star Boris Becker.
A tweet posted from Maier's account at the beginning of January referred to an interview with the younger Becker, who had an Afro-American grandfather, in which he complained about being the "eternal son" of a famous father and said he had been attacked in the German capital because of his skin color.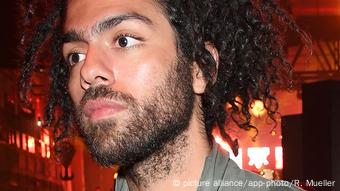 Becker: 'Give people with hate more and more love'
"It seems the little half-negro simply got too little attention — that's the only explanation for his behavior," the tweet from Maier's account said. The posting was later deleted, and Maier claimed that a member of his staff had written and published the message.
Read more: Boris Becker wants 'consequences' after AfD lawmaker's racist tweet
'Fight hate with love'
Noah Becker, 23, who has a painting studio in Berlin, works as a DJ and is the member of a band, has filed a criminal complaint against Maier for the comment.
However, he has said in a recent interview that he is not going to allow himself to become bitter over the incident.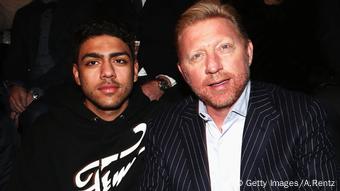 Boris Becker (r.) says racism in Germany must be opposed
"We simply have to give love and more love to people with hate — until their brain is full of it," he told the online magazine Vice.
Speaking of Maier, he said: "That's just the way he is. He knows no better. Perhaps he's bored."
Previous offender
Maier's tweet about Noah Becker was not the first time the AfD politician had made racist comments.
At a conference in Dresden early last year, Maier criticized what he called Germany's "culture of guilt" about its actions in the Second World War and warned against the "creation of mixed races."
He also described the far-right National Democratic Party of Germany (NPD) as the "only party" that had always stood up for Germany.
His remarks forced the regional court in Dresden, where he presided as a judge for almost 20 years, to accuse him of "damaging the reputation of the judiciary in general and the Dresden Regional Court in particular."
He has also been accused of sympathizing with Norwegian mass murderer Anders Breivik.
Read more: Diaby, Germany's first-ever black MP, files charges over racist Facebook posts
tj/msh (dpa, AFP)