The family of German tennis legend Boris Becker is preparing legal action against AfD parliamentary deputy Jens Maier over a tweet that dubs Becker's son "little half-negro."
The 23-year-old Noah Becker has one African grandparent on his mother's side.
German mass-circulation daily Bild reported the story on Thursday, citing the family lawyer.
"I have been retained to quickly take the necessary steps under criminal and civil law against MP Jens Maier on the basis of this clearly racist tweet," lawyer Christian-Oliver Moser told the paper.
Read more: Far-right AfD files charges against Frankfurt football club president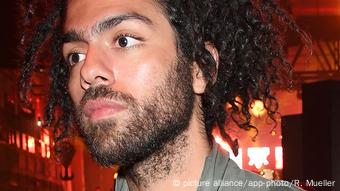 Noah Becker works as a DJ under the pseudonym 'Knowa'
The Beckers decided to file a lawsuit two days after the tweet posted from Maier's account commented on an earlier interview by Noah Becker. In the interview, Noah describes Berlin as a "white city" compared to London or Paris, and says he had been "attacked because of my brown skin tone." The famous tennis player's son also talks of being overshadowed by his father.
"It looks like the little half-negro didn't get enough attention – his behavior cannot be explained otherwise," said the German-language tweet on Maier's account Tuesday.
The post provoked an outcry on social media and has since been deleted. Maier publicly denied authorship of the tweet and attributed it to an unnamed "employee" of his.
Maier wants to apologize?
Sources from within Maier's right-wing, populist AfD party claim that Maier regrets the "embarrassment" of the tweet and that he intends to apologize to Noah Becker. The Dresden lawmaker also reportedly rebuked the employee who was allegedly behind the tweet and took steps to avoid similar incidents in the future.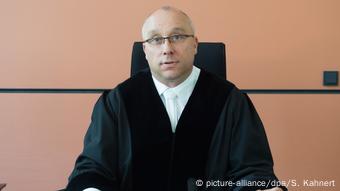 Jens Maier worked as a judge in Dresden before entering the Bundestag
However, the 55-year-old Maier has been repeatedly hit by racist controversies in the past, some of them linked to his long career as a judge in Dresden. Last year, his superior officially rebuked him and stripped him of some of his duties after he argued against the "creation of mixed peoples" at an AfD party event.
He also declared Germany's "guilt cult" about the Holocaust to be over.
Read more: Meet AfD's far-right bosses
AfD on Arabs, Africans, and aliens
Earlier this week, senior AfD official Beatrix von Storch responded with outrage when German police tweeted "Happy New Year" in Arabic.
The populist party often finds itself in the center of racism accusations. In 2016, party official Alexander Gauland used German football star Jerome Boateng to illustrate his perception of the public attitude towards dark-skinned Germans.
The national team member was born in Berlin to a German mother and a Ghanaian father.
However, Gauland said Boateng remained "alien" despite his popularity. While the player might be appreciated for his performance on the football field, people would not want "someone like Boateng as a neighbor," the party official said.
Gauland is the current leader of the AfD's parliamentary party in Berlin.
dj/rc (dpa, AFP)