National team supporters got creative on Sunday in responding to the reported comments on Jerome Boateng from right-wing politician Alexander Gauland, deputy chair of the Alternative for Germany (AfD) party.
In what Gauland called a "background discussion" with journalists from the weekly newspaper the Frankfurter Allgemeine Sontagszeitung, the politician was quoted as questioning the public's attitude to black central defender Boateng, born in Berlin with roots in Ghana.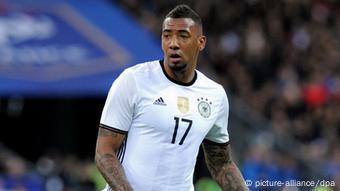 Boateng briefly wore the captain's armband on Sunday evening
"People find him good as a footballer," Gauland said. "But they do not want a Boateng as their neighbor." Gauland now disputes the quoted comments, which the newspaper says it recorded, and argues that he was talking hypothetically about some other people's views. He claims to have "at no point" made a personal comment about Boateng, somebody he has not met.
Still, this didn't stop fans from making it clear they'd prefer the Bayern Munich defender living next door, rather than the bespectacled 75-year-old lawyer who grew up east of the Iron Curtain.
"Jerome, move in next door to us!" says the fans' sign.
The German-language Twitter account for UEFA, champions of the "No To Racism" campaign, didn't miss the story either, posting a simple photo captioned "Neighbors at #GERSVK".
Höwedes jumps into breech, Petry with quasi-apology
Prior to the match in Augsburg, Schalke captain Benedikt Höwedes posted a series of photos showing himself and Boateng playing side by side over the years, saying: "If you want to win titles for Germany, you need neighbors like him. #Defense."
On pitch, Sami Khedira handed Boateng the captain's armband at the break when he came off. Boateng was subbed out in the second half during Germany's defeat to Slovakia, with Höwedes taking his place and the captain's armband.
Frauke Petry, the party leader of the AfD, a new right-wing grouping that has made rapid gains in regional elections in recent months in Germany, sought to limit the damage on social media.
"Jerome Boateng is a quality player and deservedly part of the German national team. I'm looking forward to the Euros," Petry wrote on Twitter.
Various German politicians of other stripes also responded to Gauland's comments, with Social Democrat Justice Minister Heiko Maas calling them "completely lowbrow and unacceptable," also sharing a photo from the Boatengs' home neighborhood of Wedding in Berlin.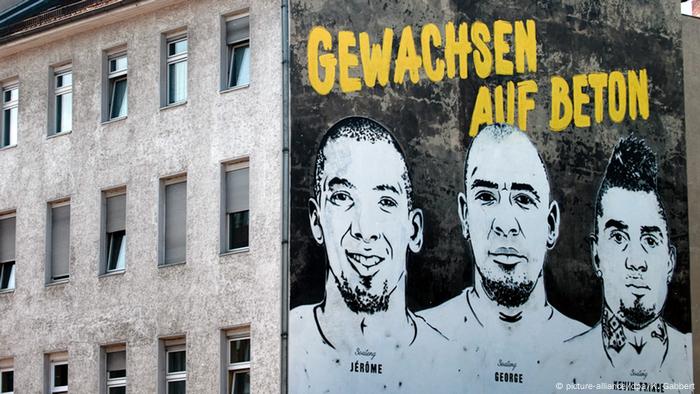 Justice Minister Maas captioned this photo with the words: 'Boateng's old neighbors are rather proud of him, by the way. With good reason!'
One fan watching the unfolding drama from home decided to sum up the situation with some football-based wordplay.
"I'd rather have a central defender as a neighbor than a right-winger," Claas Ronning said.
Boateng is one of several German players with other international family roots. Ilkay Gündogan, Emre Can and Mesut Özil all have ties to Turkey, Shkodran Mustafi to Albania, Mario Gomez to Spain, Leroy Sane to France, Antonio Rüdiger to Sierra Leone, Karim Bellarabi to Morocco, and so forth.