A traffic stop in near the southern German city of Passau turned into a drug bust as authorities uncovered hundreds of kilograms of cannabis, Bavarian police announced on Thursday.
The discovery was made on Monday after police stopped the vehicle, which they described as "defective."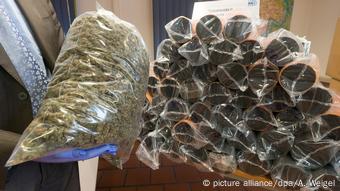 The drug was stashed into hollow shelving legs
When officers investigated the truck bed, they found 72 empty plastic lattice boxes and a curious smell.
The officers' "good nose" tipped them off to the presence of marijuana, the police statement said. The drug was stuffed in the 300 hollow shelving legs which were holding up the empty boxes. In total, 230 kilograms (507 pounds) of marijuana were uncovered.
Boxes had been loaded on the truck in Italy, which was en route to Holland at the time the traffic stop took place, police said, adding that the vehicle had Albanian license plates.
Authorities also took the truck's 57-year old driver into custody.
The announcement comes one day after Albanian police seized 1.3 metric tons of cannabis along with weapons and ammunition from a storage space and vacant house outside the capital, Tirana.
rs/msh (AP, dpa)