The United Nations refugee agency, UNHCR, says the Dadaab camp complex in northeastern Kenya is home to some 350,000 Somali refugees, forced to flee by war or famine. In January 2016, 10 people died and 1,000 fell sick in a cholera epidemic at the camp. Funding shortages have forced the UN to cut food rations to Dadaab twice since 2013. The UNHCR's head of operations in Dadaab, Ahmed Fall, told DW that the situation has improved since German government contributed some $24 million (21.5 million euros) earlier this year. He was speaking before the minister's arrival.
DW: In what capacity will Minister Gerd Müller be visiting Dadaab - as an interested minister from a donor country?
Ahmed Fall: Germany is one of our biggest donors, they contribute directly to our programs, funding our operations, and they also fund World Food Program (WFP) on the food. Last year, there was food cut of 30 percent because of lack of funding but at the beginning of this year we received about $24 million from Germany. That money allowed WFP to cover full rations for all the refugees who belong to families of a certain size. They are receiving full rations, not 70 percent, because of the contribution we received from Germany, which is very important for us. Apart from contributing individually as a country to this program, Germany also contributes through the European Union (EU). The EU is also one of our biggest donors and we receive a lot of support from them. They support various projects and our general activities including water, health and livelihood activities.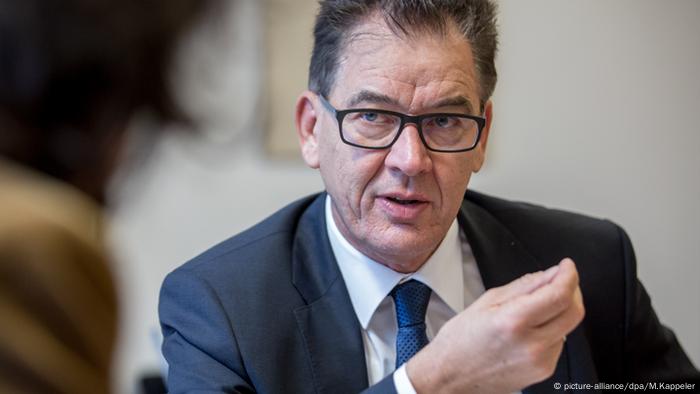 Germany's development minister, Gerd Müller, is on a tour of East Africa taking him Djibouti and Tanzania as well as Kenya
With Europe facing an unprecedented influx of refugees, have you noticed any growth of interest in the plight of the residents of Dadaab?
Unfortunately, Dadaab continue to be forgotten. That's why we are happy that the minister is coming. Two or three months ago, we received the German ambassador and his delegation and we told them that we really need to make Europe aware of the situation in Somalia. We need peace in Somalia; we need the international community to pay attention to Somalia so that we find a durable solution for these refugees who have been here for the last 25 years.
What impact will the German minister's visit have on your operations?
We hope it will make our programs more visible because now people are talking only of the refugee crisis in Europe, but we really hope that with the visit of the German minister, he will be our ambassador in Europe and in the world and people will understand the refugee problems facing Somali people in Dadaab.
Ahmed Fall is the UNHCR's head of operations in Dadaab refugee camp.
Interview: Isaac Mugabi