The German government has admitted that the Bundeswehr is recruiting more minors than ever before as it continues its complex transition from a conscription-based to a volunteer military.
In an answer to an official information request from the Left party, the Defense Ministry said that some 2,128 under-18s had been recruited as volunteers into the military in 2017, including 448 young women. Ninety of the 2,128 recruits were still underage at the end of their six-month trial period.
That represented a continuing increase, with the number of underage recruits more than tripling since 2011, when the Bundeswehr recruited 689 underage people, and when Germany ended conscription.
Read more: Transgender troops — how open is Germany's army?

Left party Bundestag member Evrim Sommer, who submitted the information request, used the opportunity to condemn the trend.
"Defense Minister Ursula von der Leyen clearly has no scruples about bringing recruitment forward more and more," she said in a statement. "Young people should not be used as cannon fodder in the Bundeswehr as soon as they come of age. As long as Germany recruits minors for military purposes, it cannot credibly criticize other countries. The German government is endangering its own efforts towards an international ban on the use of child soldiers."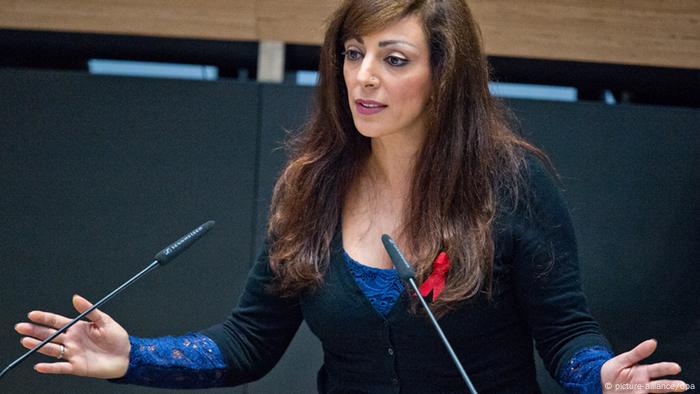 Left party MP Evrim Sommer says Defense Minister Ursula von der Leyen has "no scruples"
Recruiting minors
A spokesman for the German Defense Ministry rejected the suggestion that the army's recruitment policy was hypocritical.
"Like every other employer, we're in competition for young, qualified people," he told DW. "And many people make their decisions on which profession they want to pursue towards the end of their time in school - so before they're 18. Young people who want to join the military therefore need to be able to start training before the age of 18, so they have the same opportunities as young people pursuing work in civilian life."
"The Bundeswehr's recruitment practices are fully in accordance with the international convention of the protection of children," the spokesman added. "We're talking about 17-year-olds who are just about to turn 18."
The German government has previously said that its military policy is in line with the Optional Protocol to the Convention on the Rights of the Child on the involvement of children in armed conflict (OPAC), which the United Nations General Assembly adopted in 2002, and which does allow voluntary recruitment under the age of 18 with parental consent.
The ministry spokesman explained that young military cadets must be at least 17 years old, and must have permission from their parents or guardians to be enlisted. While they receive the same basic military training as any other recruit, including in the use of firearms, they are not allowed to be deployed to do any operations which might require them to use weapons.
Underage recruits are also subject to other special protections - for instance, if they are required to have vaccinations, they must get permission from their parents.
'Disquieting'
Wolf-Christian Ramm, spokesman for the children's rights group Terre des Hommes International Federation, called the new figures "not surprising, but disquieting."
"Of course the Bundeswehr is looking for trainees and personnel—and we've got nothing against that," he told DW. "But we're strictly against 17-year-olds being recruited and trained. They are underage and don't belong in an army."
Read more: Military history provides traditional dilemma for German army
However, in a 2014 report on Germany, the UN's Convention on the Rights of the Child (CRC) noted that, "Some advertising campaigns for the armed forces specifically target children, and representatives of the armed forces are sometimes present within the school context, speaking with pupils and organizing activities." The UN also called on Germany to change that.
The Bundeswehr is not allowed to advertise recruitment drives directly to minors, though that does not stop military officers giving talks in high schools, something else that is criticized by peace campaigners.
"The Bundeswehr does all it can to make itself attractive to young people," said Ramm. "They have videos on YouTube and ads that talk about all the fun of joining the military, and compare it to playing an adventure game. That's a part of the problem too. That hides the fact that military service is dangerous and can be deadly."
In its answer to the Left party, the Defense Ministry was also keen to underline that "all underage soldiers have the possibility of revoking their period of service at any time within the first six months without giving a reason."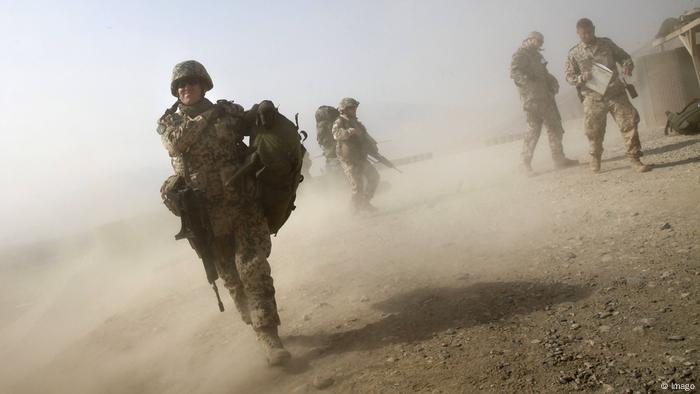 Underage soldiers are not allowed to take part in foreign missions
Struggling to find recruits
The Left party, which opposes all Bundeswehr missions abroad, also supports the "Straight 18" principle adopted by NGOs that campaign against the recruitment of child soldiers. This forbids the recruitment of anyone under 18 for any military purposes whatsoever, including training and education. "Countries like North Korea, Russia, Saudi Arabia, and Iran also do not adhere to the Straight 18 principle, and it doesn't look good for Germany if it's in the same group as them," said Ramm.
The German military has struggled to find new volunteers to join the army ever since the Defense Ministry ended its conscription-based system in 2011. Figures released in November last year showed that 10,105 people had been recruited between January and August 2017 for the 23-month voluntary service—a 15-percent drop on the same period the year before. More than a quarter of all new recruits drop out before the end of the six-month trial period.
However, the Bundeswehr has had more success recruiting people for roles in the military with a minimum two-year contract: some 33,400 signed up in the first eight months of 2017. Such contracts are said to have more employment prospects in the future.
The German military has also faced a number of sexual abuse and bullying scandals in recent months, as well as uncovering a "false-flag" terrorist plot by neo-Nazis in its ranks.