During her visit to German troops stationed in Mazar-i-Sharif, Afghanistan, German Defense Minister Ursula von der Leyen had soldiers singing Christmas carols. When she addressed several hundred of them in her characteristically cheerful manner, she expressed her utmost "respect and appreciation" and honored the soldiers' "exceptional service" to ensure Germany security at home. Von der Leyen's talk, however, was met with tepid applause and derisive remarks quietly whispered by numerous soldiers. The relationship between the defense minister and her troops could certainly be better.
Many still haven't forgiven von der Leyen for accusing Germany's armed forces, the Bundeswehr, of having an "attitude and leadership problem" on German TV back in April. She had made her remarks after news broke of a scandal surrounding a far-right army officer. Andre Wüstner, who heads the German Armed Forces Association, later responded to von der Leyen's remarks by saying she must have an attitude problem for leveling such sweeping accusations at the Bundeswehr.
A luckless minister
Despite these tensions, von der Leyen remains Germany's defense minister. She's held the position for over four years now — an impressive feat given that several who served as minister of defense before her soon saw their political careers falter. The driven von der Leyen evidently played her cards well.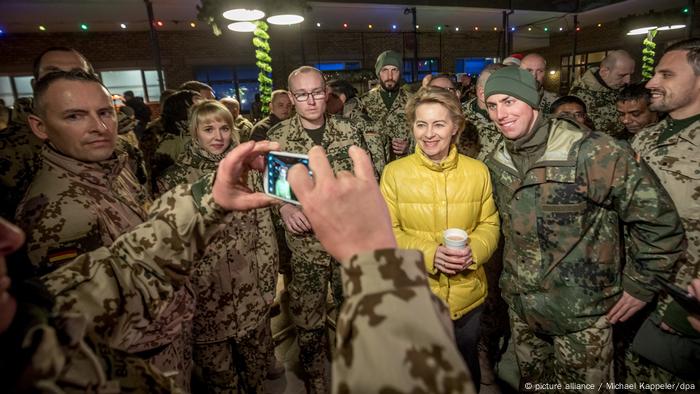 When the camera was on, it was all smiles between von der Leyen and the German troops
Though recently, things haven't been going her way: German parliament is not providing the kind of backing von der Leyen desires for the country's Afghanistan mission and its military engagement in Mali. Von der Leyen wanted parliamentary approval to send additional troops to Afghanistan. Currently, 980 soldiers are stationed there. German troops already on the ground are training Afghan soldiers. To do this successfully, however, the Bundeswehr wants more support. Yet German parliament, the Bundestag, has rejected von der Leyen's wish to send additional troops to Afghanistan. The result is that German army instructors are unable to train their Afghan peers due to security concerns.
Orders alone don't suffice
Germany's Mali mission isn't without its share of challenges, either. The Bundeswehr recently took over control of Camp Castor from the Dutch in the dangerous city of Gao. This responsibility entails not just giving orders but also taking charge of the camp's administration and logistics. Yet here, too, the Germans are short-staffed. And the Bundestag has brusquely rejected von der Leyen's request for additional troops to be sent to the African country. The Bundestag is loathe to make major decisions before a new German government has been formed.
This prolonged uncertainty over what kind of government will lead Germany has irritated von der Leyen, who remains in office on an interim basis until a new government agreed. It is unlikely Germany's center-left Social Democratic Party (SPD) will favor bold steps when it comes to the country's military engagements — provided the party does in fact join the conservative Christian Democratic Union (CDU) to form yet another coalition government. And a minority government could make matters even more complicated for Germany's military engagements abroad. So does this mean von der Leyen's political career is in danger? That remains up to Chancellor Angela Merkel alone. If Merkel wants to keep her ally in the next government, von der Leyen will stay on. Then, she will be able to keep alive her dream of one day becoming chancellor herself. If, however, Merkel does not want to retain von der Leyen this could well spell the end of her political career.