Chancellor Angela Merkel's cabinet on Wednesday approved draft legislation that would foresee major fines for social media companies like Facebook and Twitter if they fail to delete hate speech, libel or other content in breach of German laws. Given the grand coalition government's monster majority in the lower house of parliament, approval there should be a formality.
Ahead of Wednesday's decisive cabinet meeting to tackle internet hate speech, Justice Minister Heiko Maas reiterated his warning that online companies failing to delete criminal content themselves could face financial punishments of up to 50 million euros ($53 million).
Social networks would have 24 hours to delete or block obviously criminal content and seven days to deal with more ambiguous cases. They would be obliged to report back to the person who filed the complaint about how they handled the case.
Failure to comply could lead to fines up to 50 million euros for the company and 5 million euros for the company's chief representative in Germany.
The proposed laws would also force networks to reveal the identity of those behind the hateful posts.
"We do not accept the fact that companies in Germany do not adhere to the law. Therefore in future, if it doesn't get better, we will impose high fines on these companies," the Social Democrat (SPD) told ARD breakfast show Morgenmagazin.
A recent survey by the Justice Ministry showed that at just one percent, Twitter deletes "almost none" of the criminal content posted on its servers by users. Facebook meanwhile deletes around 50 percent and YouTube 90 percent.
Responding on Morgenmagazin to Maas' comments, Green Party legal expert Renate Künast criticized that the proposed legislation ran the risk of limiting freedom of expression.
"My fear, and that of many others, is that in the end the version [Maas] is now presenting will limit freedom of opinion because it will simply become delete, delete, delete," she said.
"In principle," Maas' approach isn't wrong, Künast added. However, in its current form, the draft law is "a rush job." The suggested high fine against non-compliant companies was "almost an invitation to not only delete real insults, but everything for safety's sake," Künast said.
Serious impact on free speech
Organizations representing digital companies, consumers and journalists, accused the government of rushing a law to parliament that could damage free speech.
"It is the wrong approach to make social networks into a content police," said Volker Tripp, head of the Digital Society Association consumer group.
A spokesman for Facebook said the company was working hard to remove illegal content, but expressed concern at the draft law.
"This legislation would force private companies rather than the courts to become the judges of what is illegal in Germany," he said, adding that Facebook's partner Arvato would employ up to 700 staff in Berlin for "content moderation" by year's end.
Bitkom, an association which represents digital companies, said the government should build up specialist teams to monitor online content for potential infringements, rather than expect social networks to do it themselves.
"Given the short deadlines and the severe penalties, providers will be forced to delete doubtful statements as a precaution. That would have a serious impact on free speech on the internet," said Bitkom manager Bernhard Rohleder.
Accountability report
The proposal by Maas on Wednesday is just the latest in a string of measures to combat hate speech on social media in Germany.
The justice minister last month announced plans for a new law that will force social networks to publish a quarterly accountability report. The document will include information on the number and qualifications of employees responsible for deleting and blocking content that breaches Germany's hate speech and slander laws.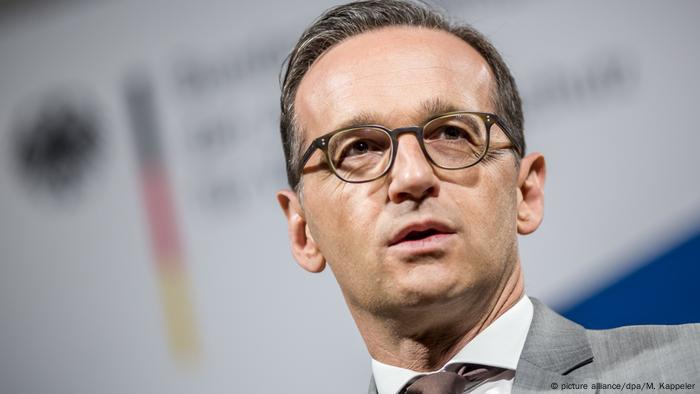 German Justice Minister Heiko Maas launched a task force to crack down on "illegal hate speech on the internet" in 2015
Social networks will also be obliged to offer users "an easily recognizable, directly reachable, and constantly available" complaint process for "prosecutable content," which includes libel, slander, defamation, incitement to commit a crime, hate speech against a particular social group, and threats.
Landmark legislation in Europe
Some lawyers criticized the proposal, however, arguing that despite Maas' show of determination, the new bill gave little new substance to German law.
Würzburg-based lawyer Holger Loos said it offered no new protections for personal rights. He argued that Anas Modamani, the Syrian who sued Facebook over the slanderous use of his photo on fake news stories, would have stood no better chance of winning under the new law.
Should the bill be passed, however, Germany would be the first country in Europe to introduce such clear legal guidelines against online hate speech.