A district court in the southern German city of Würzburg ruled on Tuesday that social media giant Facebook is not obliged to seek and delete posts falsely linking Syrian refugee, Anas Modamani to crimes committed by other migrants.
"Claim is rejected, Facebook wins in front of Würzburg regional court," Modamani's Bavarian lawyer Chan-jo Jun wrote on Facebook.
The plaintiff, Anas Modamani, was one of several asylum seekers who took selfies with Chancellor Angela Merkel at the height of the refugee crisis in 2015 when she visited the Berlin refugee shelter where the young newcomer was housed.
His photos went viral on social media almost instantaneously and even helped him find his German foster family.
Within a few months, however, his started to appear in conjunction with information about crimes committed by other migrants including the deadly Berlin truck attack in December.
'Selfie with a terrorist'
Fake news content from earlier last year also showed the 19-year-old refugee's image in connection with the Brussels terrorist attacks, claiming that he was one of the pepetrators and had just pretended to be a refugee, with some sites insinuating Merkel took "a selfie with a terrorist."
"Whenever there's a refugee-related incident, he's trotted out as Merkel's model refugee, and the crimes are blamed on him," Jun said prior to Tuesday's verdict.
No one should have to put up with that, so now "Modamani is fighting back," the IT attorney added, who has filed various legal complaints against the US social networking company, including demands that Facebook comply with Germany's hate speech laws.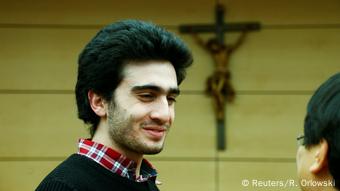 Syrian refugee Anas Modamani is now taking German language courses and working in a fast food restaurant
Threats against lawyer
Modamani's lawyer Chan-jo Jun told Deutsche Welle he had recieved threats when defending the case.
"When you fight against Facebook, we found out, you have to take into account that Facebook will attack you personally, and I also learned that there are threats," he said.
"There were serious threats, people asked me to discontnue my activities against Facebook or else there would be harm done to me or my family."
He said Facebook had no incentive to remove photos which were driving traffic to the network.
'Fake news'
Facebook and other web giants pledged in December 2015 to examine and remove within 24 hours any hateful comments spreading online in Germany, in particular over the mass influx of 890,000 migrants that year.
German Justice Minister Heiko Maas, who has been negotiating with social network chiefs, has also warned that Facebook and others could be punished if they do not comply with German law.
Facebook was also attacked for its role in the spread of fake news, leading up to November's US presidential election. As a result, the company announced that it would introduce measures to take down "unambiguously wrong reports" being shared on its platform.
It said it would offer a simpler reporting process for users to flag suspected fake news, display warnings next to statements identified as false by independent fact-checking organisations, and cut off advertising revenue to fake news sites.