German Foreign Minister Heiko Maas did not mince his words during his second speech at the United Nations in New York in just a few weeks Tuesday, as Berlin tries to bolster its bid for a seat on the 15-member Security Council.
Germany, Belgium and Israel are competing for two seats in a category reserved for Western European and other countries. Five countries will be picked in an election on June 8 to join the council for two-year terms.
Maas accused Syrian leader Bashar Assad of "inhumane conduct" after an alleged chemical weapons attack on Douma, the last rebel-held suburb of Damascus.
"The inhumane conduct by the Assad regime is an attack on the core values of the international community," said Maas. "We must not close our eyes to it. The violations of fundamental international humanitarian law cannot go unpunished."
Germany declined to join the United States, Britain and France in military strikes on Syria, but did support the decision politically.
Meeting with counterparts
While in New York, Maas met with his Iranian counterpart, Mohammad Javad Zarif, to discuss the Iran nuclear deal.
Under the terms of the agreement, which was signed in 2015 by Iran, France, the United States, China, Britain, Russia and Germany, Tehran agreed to restrictions and monitoring intended to ensure it could not build nuclear weapons. In turn, international sanctions were lifted.
However, US President Donald Trump has threatened to pull out of the deal. In October he warned that he would walk away from it unless what he called flaws were addressed. Trump must decide by May 12 whether or not to waive sanctions against Iran. If he were to extend the sanctions, it would be tantamount to walking away from the deal.
Germany and the other signatories to the deal are trying to convince Trump not to walk away from it, including French President Emmanuel Macron, who is currently meeting with the president in Washington.
Read more: Can Angela Merkel and Emmanuel Macron save the Iran nuclear deal?
Maas and Cavusoglu meet for the first time
Maas also met with Turkish Foreign Minister Mevlut Cavusoglu for the first time on Monday. Turkey's upcoming election was among the topics of discussion.
Maas made clear before the talks that Berlin would not budge on its refusal to allow election campaigning in Germany aimed at Turks who live in the country and are eligible to vote in the elections.
Cavusoglu has plans to attend a memorial event marking 25 years since a right-wing arson attack in Solingen, western Germany, killed five members of a Turkish-German family. Maas said the ban on public appearances by foreign politicians in the three months preceding an election would not apply to Cavusoglu.
"We don't consider that to be an election event because it has a totally different background," said Maas. "This is an event that takes place regularly and commemorates the victims of this terrible arson attack," he added.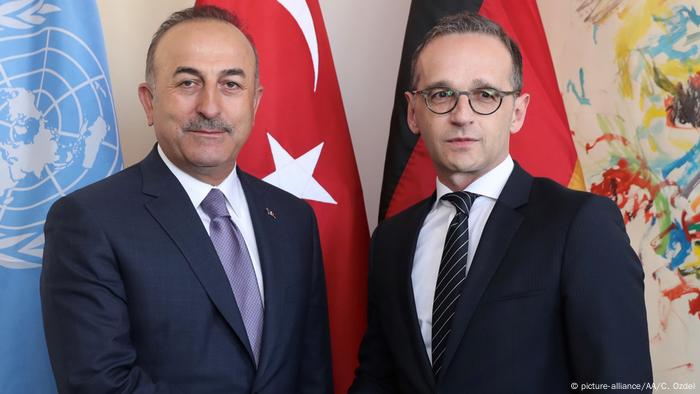 Berlin described the meeting between Heiko Maas (right) and Mevlut Cavusoglu as a "good conversation in a constructive atmosphere"
Maas said he hoped to "build on the positive signs of the last few months and make further positive steps in the German-Turkish relationship."
Germany's refusal to allow Turkish politicians to hold rallies on German soil for a controversial referendum to change the Turkish constitution caused a rift between the two nations last year.
Turkish President Recep Tayyip Erdogan has said he plans to hold an election rally abroad.
There are currently 1.4 million Turks living in Germany who are eligible to vote in the upcoming snap election in Turkey on June 24.
av/rt (DPA, Reuters)
Each evening at 1830 UTC, DW's editors send out a selection of the day's hard news and quality feature journalism. You can sign up to receive it directly here.