Zu Guttenberg met with his Chinese counterpart Liang Guanglie on Tuesday, calling on Beijing to do more to help stabilize Afghanistan in the face of a growing insurgency and worsening violence. However, he stressed there was no military role for the Chinese to play there.
"We have a shared interest when it comes to the question of at what time do we reach a stable, or at least an agreeably stable, Afghanistan, with a state of security that we can accept," zu Guttenberg said in Beijing.
China is not involved in the war in Afghanistan, but has economic interests there.
Zu Guttenberg said training civil servants was one area in which China could step up its involvement.
"When it comes to goals we can reach and we have to reach, I think, the neighbors can also play a significant role. We have to look at the most important neighbors as well and China is one of them," he said.
Mineral wealth
China would benefit from a stable Afghanistan because it would be easier for its firms to complete billion-dollar resource deals they have or are considering.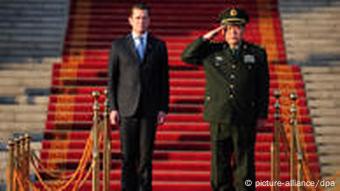 China is reluctant to get more involved in a war-torn Afghanistan
The US Defense Department estimated earlier this year Afghanistan's mineral resources could top $1 trillion (0.7 trillion euros).
How to stabilize Afghanistan will be a major issue at a NATO summit in Lisbon later this month and in US President Barack Obama's strategy review in December.
Germany is the third-largest contributor to the NATO-led force in Afghanistan with about 4,600 troops and, like the United States, is looking at starting a partial withdrawal in 2011.
Closer cooperation on cyber crime
Zu Guttenberg has also been discussing bilateral relations, closer relations with NATO, the fight against piracy and cyber security.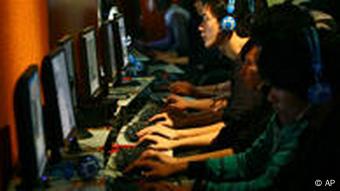 Zu Guttenberg wants better cooperation on cyber attacks
With regards to the struggle against cyber attacks, zu Guttenberg called for a better exchange of information between NATO and China.
"I can see a lot of room for improvement", he said, adding that waging war with computers through the internet was now a "sad reality and of growing importance".
Security policy cooperation between China and Germany has been in place for years. The German armed forces have trained more than 100 Chinese officers and military leaders from both countries meet regularly for a strategic dialogue and security policy seminars.
Author: Natalia Dannenberg (dpa, Reuters)
Editor: Rob Mudge