On Thursday, it appeared that the unthinkable had indeed come to pass. The Germans, renowned (and sometimes chided) for the love of their cars and their pride in the country's stellar reputation for auto engineering, were finally fed up with corporate misconductand had turned their backs on what was once the nation's pride and joy.
According to a new poll from broadcaster ARD, only 38 percent of Germans trust automakers. 57 percent said that their confidence in the firms had dropped. On top of that, the majority of German think this will have a lasting national impact on the national economy.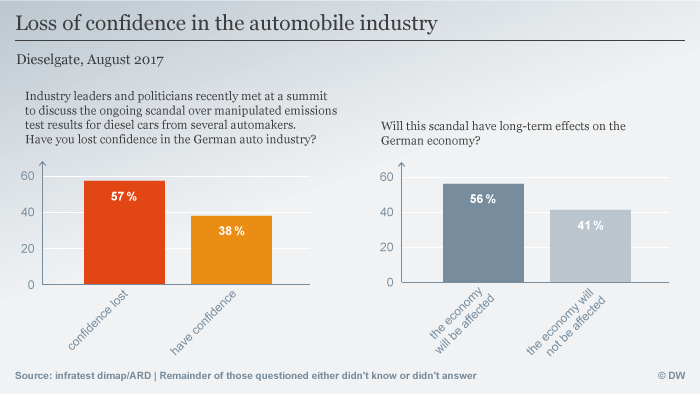 A majority, if not an overwhelming one, believe the once-stellar reputation of the label "Made in Germany" has taken irreparable damaged.
But Germans felt betrayed by more than just the car manufacturers. According to the same poll, 63 percent of Germans believed that politicians had handled the crisis with only the interests of the auto firms and their own political futures in mind. Only 23 percent believed that politicians cared about protecting the citizens and the environment, and a dismal 7 percent thought that politicians cared about the owners of diesel cars.
'Dieselgate' - a worldwide phenomenon
The "Dieselgate" scandal has been slowly unfolding since September 2015, which a group of US researchers realized that Volkswagen engineers had manipulated the programming in some of its diesel cars so that it would pass emissions tests.
Over the following year, several other car manufacturers were found or alleged to have installed similar so-called defeat devices to beat the tests, implicating brands like Volvo, Jeep, Audi, Hyundai and Fiat - just to name a few.
Last week, industry leaders and politicians met for a "Diesel Summit" in Berlin to try to address the rampant problem of emissions cheating and how to restore trust in car brands. Auto industry bosses agreed to a request from national and state governments to upgrade software on around 5.3 million diesel vehicles.
The VDA industry group also said it would aim to reduce nitrogen oxide (NOx) emissions by 25-30 percent.

Confidence drops, but not in Merkel
Environmental activists, however, slammed the agreement as a superficial solution to a wider problem.
"Once again, car manufacturers have prevailed over the interests of consumers and environmentalists," said Hubert Weiger, head of Germany's Federation for the Environment and Nature Conservation.
Weiger also derided the idea that the agreement could be viewed in any way as an achievement, considering it was going to be applied on a voluntary basis.
With the state government in Lower Saxony owning a chunk of VW, and separate allegations of price-fixing among German manufacturers recently published in magazine der Spiegel, questions about German politics' closeness to this key industry have been mounting.
Diesel emissions are considered more dangerous for air quality and people than that from ordinary gasoline, as they contain more cancer-causing chemicals. As a result, some courts are considering banned the fuel altogether. However, diesels tend to fare better than petrol-fueled cars in terms of carbon dioxide emissions, the main vehicular contributor to climate change.
If the carmakers are shaking in their boots as consumer confidence plummets, there is one leader who can breathe a sigh of relief - Chancellor Angela Merkel.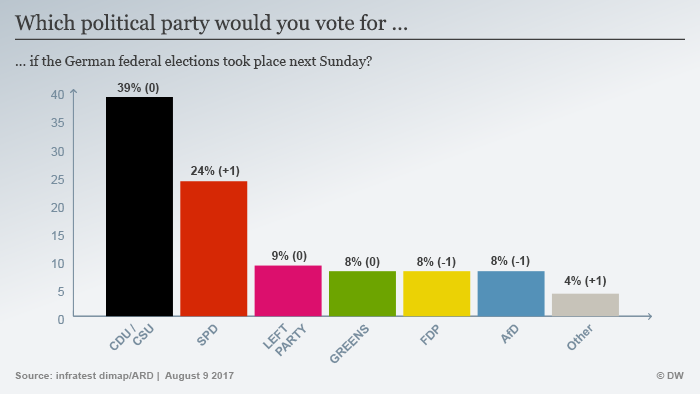 The scandal does not seem to have affected confidence in the chancellor in the slightest. ARD's latest polls show Merkel's Christian Democrats (CDU) still comfortably in the lead - if stagnant at 39 percent support - ahead of federal elections in September.