Hundreds of children who were sexually and physically abused over several decades at the Domspatzen, a world-famous Catholic choir in Bavaria, will be financially compensated, Regensburg Bishop Rudolf Voderholzer said on Wednesday.
The 1,000-year-old choir in Bavaria's Regensburg was first shaken by the massive sexual abuse scandal in 2010, when former pupils alleged abuse by adults in the Catholic Church. To date, 422 former singers have registered complaints of abuse, including at least 65 cases of sexual abuse, from teachers and priests between 1945 and the 1990's. The actual number of victims is believed to be much higher.
The Catholic Church and victims' representatives have led a panel to address the tragedy.
Voderholzer announced on Wednesday the results of an interim report and progress on addressing the abuse as part of the panel that includes victims' representatives. Describing the investigation as the "most depressing experience" of his religious service, the bishop said the panel had agreed on a four-pillar approach to addressing the abuse.
By the end of 2017, the panel will decide on paying compensation of between 5,000 and 20,000 euros to each victim, Voderholzer announced in the company of two victims' representatives.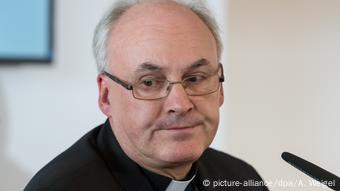 Voderholzer urged undeclared victims to come forward.
Other measures will be taken to make an "effective and sustainable resolution" of the abuse, including a sociological and history study. This will help to develop preventative measures against any future abuse.
Another pillar to help deal with the abuse is the formation of a panel to recognize the suffering of the victims.
Alexander Probst und Peter Schmitt, who represent the victims, said they were satisfied with the outcome of the investigation so far and praised Voderholzer for the seriousness with which he has addressed the abuse.
Voderholzer's predecessor between 2002 and 2012, Curial Cardinal Gerhard Ludwig Müller, had been accused by the victims of hindering and delaying an investigation into the abuses.
The choir was run by Pope Benedict's elder brother, Georg Ratzinger, from 1964 to 1994, when most of the abuse is believed to have occurred.
According to the victims' lawyer Ulrich Weber, Ratzinger must have known of some of the cases, although he has denied having any information. Weber will issue a final report into the abuses at the beginning of 2017.
cw/rc (epd, dpa, KNA)