Ulrich Weber, the lawyer representing the alleged victims, was commissioned by the church diocese to look into the cases.
In a press conference on Friday, he said: "I have here 231 reports of physical abuse." These ranged from beatings to food deprivation, sexual assault and rape, Weber told journalists.
"The reported cases of sexual abuse in Regensburg were mostly concentrated in the period of the mid-to-late1970s," he said. According to the lawyer, "50 victims spoke of 10 perpetrators" at the Regensburger Domspatzen boys' choir and two associated boarding schools between 1953 and 1992.
However, the actual number of victims could be much higher, Weber said, because at least every third child out of the 2,100 pupils in the choir had been subjected to physical violence.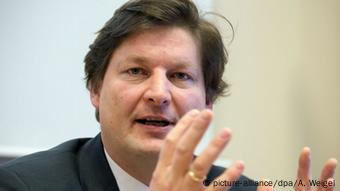 Lawyer Ulrich Weber: more victims likely
In an interview with "Spiegel" magazine in 2010, director and composer Frank Wittenbrink, a former pupil of Regensburg, said there was a "system of sadistic punishments connected to sexual pleasure."
Weber told reporters that the events were "internally known and criticized, but they had almost no consequences." Most of the cases can no longer be pursued in court, because they happened too long ago.
The Domspatzen is a 1,000-year-old choir in Bavaria's Regensburg. It was first shaken by the massive sexual abuse scandal in 2010, when former pupils alleged abuse by adults in the Catholic Church. The choir was run by Pope Benedict's elder brother, Georg Ratzinger (pictured above, left, next to his brother Joseph), from 1964 to 1994, when most of the abuse is believed to have occurred.
According to the victims' lawyer, Georg Ratzinger must have known of some of the cases, although he has denied having any information. The diocese had previously offered to pay victims 2,500 euros each ($2,730 at today's exchange) in damages.
mg/msh (AFP, dpa)