The Bundestag, Germany's lower house of parliament, discussed the country's current military operations, with a first vote resulting in Germany extending its mission in Afghanistan until the end of 2016 and another leading to German Bundeswehr troops rejoining NATO's maritime mission in the Mediterranean Sea.
German Defense Minister Ursula von der Leyen said that there was no end in sight for Germany's involvement in Afghanistan. She admitted that initial plans to withdraw troops from the country had been "too ambitious."
Mission Resolute Support
A total of 480 out of 602 participating parliamentarians voted in favor of extending Germany's training mission in Afghanistan through 2016. The vote also approved increasing the number of German soldiers stationed in the country from 850 to 980 active military personnel.
The opposition Left party had submitted a petition to phase German troops out of Afghanistan. The party's parliamentarians voted against the motion to extend the mission. Niels Annen, chair of foreign policy for the Social Democrats (SPD), Angela Merkel's partner in the "grand coalition," stressed that the decision to prolong Germany's mandate in Afghanistan had been a difficult one for all involved, adding that there was still a great deal of work to be done in the country.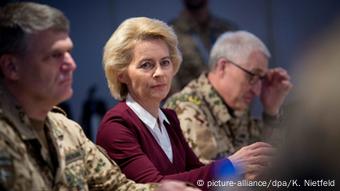 Germany's Defense Minister Ursula von der Leyen told troops in Afghanistan earlier this month that they would remain in the country for the foreseeable future
German service members are stationed in Afghanistan as part of NATO's Mission Resolute Support, which provides training and assistance to help Afghanistan strengthen its own defenses. The mission, which assisted Afghan forces, was created in December 2014 at the end of NATO's 13-year International Security Assistance Force (ISAF) mission in Afghanistan.
At the height of the ISAF mission Germany had 5,300 Bundeswehr troops in the country.
Operation Active Endeavour
Parliamentarians also voted in favor of renewing Germany's prospective involvement in Operation Active Endeavour, NATO's mission in the Mediterranean Sea created in the wake of the September 11, 2001, attacks. German troops were not presently involved in the mission until the vote but had contributed in the past.
Matthias Ilgen, member of the parliamentary defense committee and another SPD parliamentarian, said that Operation Active Endeavour provided an important contribution for the safety and security of maritime traffic in the Mediterranean, which Germany should continue to support.
"We can't start a joint mission and then decide to leave. That would amount to isolation in our foreign policy," he told parliamentarians while thanking German service members for their ongoing contributions in the war against terror.
With 467 out of 601 participating parliamentarians voting in favor of the mission, similar divisions along party-political lines could be observed as were with the vote for Mission Resolute Support an hour earlier.
Stefan Liebich, member of the parliamentary committee on foreign affairs for the Left told parliamentarians that Germany' involvement in various military campaigns, in particular the fight against the self-declared "Islamic State" (IS) in Syria, would only strengthen insurgents' resolve.
"This will only strengthen extremist views. These people are grateful for every Western bombing that comes their way," he said.
ss/sms (AFP, Reuters, epd)