Gerhard Schröder defied critics on Wednesday night, insisting that joining the board of Russian energy giant Rosneft was entirely up to him.
"I will do this. This is about my life and I decide – not the German press," he said in his usual candid manner. He was speaking at an election campaign event for the Social Democrats (SPD) in the northern town of Rotenburg on the Wümme. He added that he could not see a problem and that "I'm not going to allow anyone to make it into one."
Read more:Lobbyists and politicians: What are the regulations?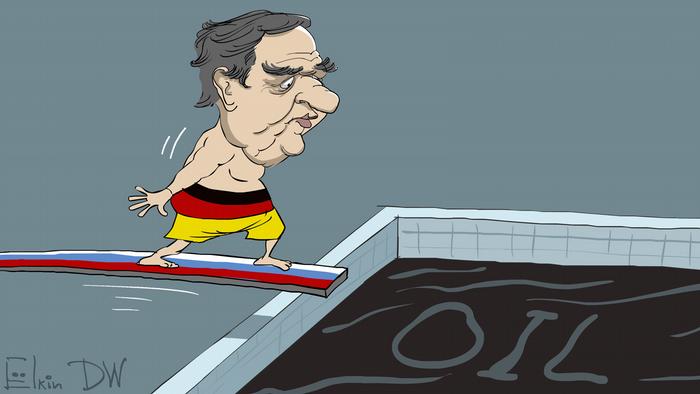 Schröder, who was German chancellor from 1998 to 2005, was harshly criticized for his decision by the media, and – among others - by his successor Angela Merkel as well as Martin Schulz from his own SPD party.
Rosneft has been subject to EU sanctions due to Russia's unlawful annexation of Crimea, the Ukrainian peninsula.
Don't isolate Russia
Schröder, however, stressed that getting involved with the world's biggest oil company was in Germany's interest. "I stand by what I've said before – that it's not wise to isolate our big neighbor Russia both politically and economically," he said adding that his critics were apparently interested in a new Cold War with Russia.
He said he was "fed up" with the criticism of Russia and its president, Vladimir Putin, saying that compared to US President Donald Trump, Putin was "highly rational" and that "demonizing Russia" would get us nowhere.
Read more: Ex-Rosneft boss tied to mafia?
He emphasized that Rosneft was an international company and not "the extended arm of the Russian government." Russia owns just over 50 percent of Rosneft.
The former German chancellor is known for his connection to Russia – he once dubbed Russian President Vladimir Putin a "flawless Democrat."
After he lost to Merkel in the 2005 election, he joined the Nordstream pipeline consortium, which is controlled by Russia's Gazprom. He has since switched to join an extension of the original pipeline, known as Nordstream 2.
Schröder is due to be formally elected to Rosneft's supervisory board on September 29. It is not clear yet whether he will lead the board or just become a member.
ng/rt (Reuters, dpa)