Membership in a Christian church is not a requirement for Germany's head of state, current President Joachim Gauck said in an interview published Friday. The religious affiliation of his successor is "irrelevant," Gauck told Germany's Protestant news agency EPD.
Germany's next head of state could have another religious affiliation - or none at all, Gauck said. Specifically, the outgoing president remarked he did not want to rule out the possibility of a Muslim president for Germany.
One possible choice for the post being discussed is Navid Kermani, a Muslim scholar and writer of Iranian descent. Other possible candidates include the former Protestant Church leaders Wolfgang Huber and Margo Käßmann. The majority of Germany's previous presidents were Protestant, the news agency noted. Käßmann, however, announced Wednesday that she has no intention of running for the presidential post.
Gauck, a former Lutheran pastor and civil rights activist in communist East Germany, headed the government body that dealt from 1990 to 2000 with East German secret police files. He became president in 2012 with an undeclared party affiliation, but announced he would not seek a second term in June.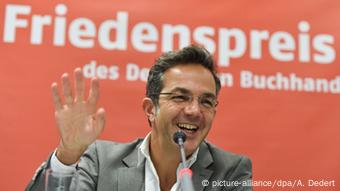 German-Iranian scholar Navid Kermani has been discussed as a top candidate for the presidency
German presidency has little executive authority
Gauck's successor is due to be elected by Germany's Federal Assembly on February 12, 2017. Although the German president is nominally the head of state, aside from certain constitutional duties, the job is largely ceremonial.
rs/jar (epd)