Navid Kermani is a highly political author who monitors developments in the world a little like a seismoloist. Describing himself, he says he has always been a political animal. Not only does he write academic papers on the great contemporary issues of our multi-religious society, he is also a columnist and contributor for various German newspapers, such as the "Frankfurter Rundschau," "Die Zeit," the "Frankfurter Allgemeine Zeitung" and the "Süddeutsche Zeitung." Kermani has also been a guest author and interview partner for DW on several occasions.
His work - which includes novels, short stories, literary criticism, essays and reports on religion and the Arab world - has secured him several awards. He regularly travels to Iran, Egypt, Syria and other troubled areas of the world to write his stories. "These reports are just as important and significant to me as my novels or my scientific publications," Kermani told DW. Observing people directly, without prejudice, Kermani says, provides a larger perspective than the one provided by the media.
Focus on Islam, integration
Navid Kermani was born in 1967 in Siegen, Germany, in a pious family of doctors from Iran. He now lives with his wife and two children in Cologne.
As a 15-year-old, Kermani published his first article in the local newspaper of his hometown. He later studied philosophy, Oriental studies and theater in Cologne, Cairo and Bonn. For his doctoral dissertation, he delved into the evolution of the perception of the Koran throughout history. His research resulted in a book called "Gott ist schön," published in 1999 ("God is beautiful," available in English since 2014).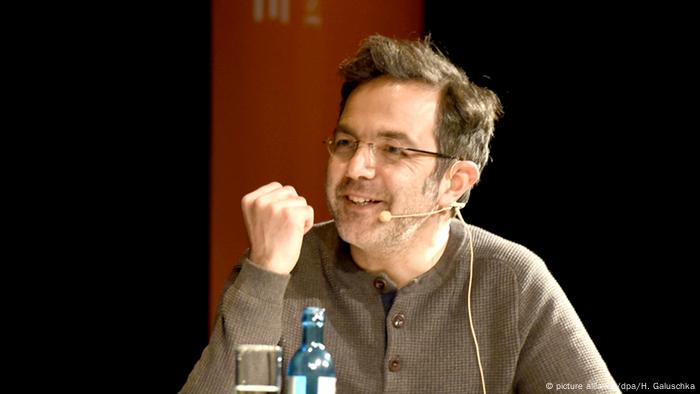 Kermani at a public reading in Cologne in March 2015
In Isfahan - his parents' hometown in Iran - he founded a language and culture center in 1994, which he headed for over four years. He then pursued his academic research with the Institute for Advanced Study in Berlin. After a scholarship at the Villa Massimo in Rome, Kermani became a fellow at the prestigious KWI, the Institute for Cultural Studies in Essen, from 2009 to 2012. The renowned Orientalist is now also a guest lecturer in various universities in Germany and abroad.
Strong ideas
Navid Kermani became well-known through his talk show appearances and his books. His first literary text was published in 2002 and offered an amazing construct of ideas: It discusses the music of Neil Young and its therapeutic effect on his three-month-old colicky child while weaving stories from his own life. The book, which could remind of the typical parenting guide, was atypical for the author. Yet it still was a "true Kermani," so to speak: knowledgeable, thorough and critical. He has received several awards and distinctions for his novels. Among others, he won the 2012 Kleist Prize (awarded to "visionaries for the future" in literature), and obtained the prestigious Joseph-Breitbach Prize for his literary work in 2014.
He was at the center of a controversy in 2009. That year, the Muslim scholar committed to interfaith dialogue was to be awarded the state of Hesse's Cultural Prize jointly with a Catholic, Cardinal Karl Lehmann, a Protestant, Peter Steinacker, and a Jew, Salomon Korn. But the two Christian award winners refused to accept the prize in his company: They were offended by a newspaper article Kermani wrote about a painting of the crucifixion. Kermani was to be excluded from the award. After a broad public debate, public apologies came from the then state premier of Hesse, Roland Koch, and he ultimately did obtain the joint award of 45,000 euros (almost $51,000) - and donated his share to a Christian cause.
On all stages
Kermani is versatile. He developed his literary skills by working as an assistant director at the theaters Schauspiel Frankfurt and Roberto Ciulli's Theater an der Ruhr. From 2005 to 2007, he was a theater director and curator for special events in Cologne. Shortly afterwards, he published his first children's book ("Ayda, Bär und Hase," which translates as "Ayda, Bear and Hare") - bewildering literary critics who were used to his complex academic papers on religion.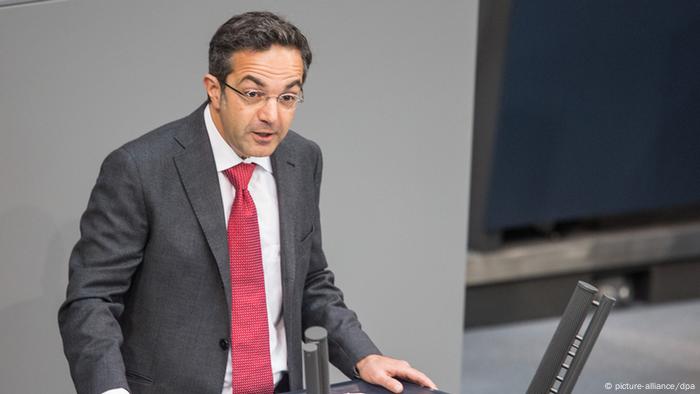 Kermani during a ceremony commemorating the 65th anniversary of the German Constitution
In 2007, Navid Kermani also accepted a public political responsibility: Wolfgang Schäuble, Germany's interior minister at the time, invited the Islam expert to join Germany's "Islam Conference" - this body, set up by Schäuble a year earlier, now convenes annually to discuss issues such as integration in Germany. In debates on integration, Kermani would repeatedly argue for a more nuanced view of religions, and criticized any form of fundamentalism. His book "Wer ist wir? Deutschland und seine Muslime" (literally translated: Who is we? Germany and its Muslims) obtained a lot of attention in Germany.
Kermani's passionate commitment to a more generous refugee policy in Germany was also well received abroad. The 2015 Peace Prize of the German Book Trade is an official recognition of his long-term commitment to a peaceful intercultural coexistence in Germany and Europe. The award is handed out on Sunday, October 18.