Teachers in France went on strike on Tuesday to protest against Socialist President Francois Hollande's new policy to overhaul the education system.
Classes were interrupted in many schools and marches were planned in several French cities.
The proportion of teachers involved was disputed, with the SNES trade union saying that more than half of high school educators had downed tools. The Eductation Ministry, meanwhile, put the figure at 27 percent. The strike is considered a key test for Education Minister Najat Vallaud-Belkacem, a 37-year-old with Moroccan roots who only took up the post last year.
Vallaud-Belkacem's proposal included reforming classes for the age group 11-15 after French students performed badly compared to children of other countries in international tests. Indications that children of manual laborers were far more likely to drop out of school than white collar workers' children, despite a French schooling system that strives to treat all pupils equally, also pressured the government to react.
More freedom choosing subject matter
A proposal, which could see the schools exercise more discretion over the curriculum, has raised concerns that foreign language lessons could be impacted. The German government also weighed in on the matter, raising the question of whether the new reforms would reduce the number of students learning German. Vallaud-Belkacem however countered the argument, saying the new changes would help in increasing the number of students.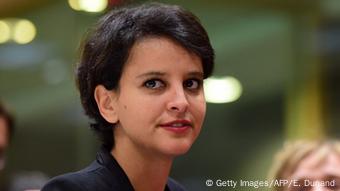 Vallaud-Belkacem is experiencing her first big challenge as education minister
Conservatives labeled the plans a "shipwreck for France," but Socialists said the reforms would allow schools more freedom on what they wanted to teach, promote indisciplinary learning and reduce the education system's elitist bent.
The country's 840,000 teachers, most of whom are loyal to Hollande's Socialists, however believe that the move will increase competition between schools and increase inequality.
But the French government is insistent on implementing the new rules. "The reform is essential," Prime Minister Manuel Valls told reporters, "We want to change an education system that reinforces inequalities. We want to improve everyone's level across the board."
According to a recent poll, over 60 percent of people oppose the changes and believe that it may do students more harm than good.
But an OECD study reveals that students' performance in France is most closely linked to parents' socio-economic background and that children of immigrant parents are more likely to drop out of school.
mg/msh (AFP, AP, Reuters)