Speaking after the regular, joint Franco-German cabinet meeting on Thursday, Chancellor Angela Merkel said she wanted closer cooperation between the two European Union allies.
"I believe that we have shown shortly after the new government here was installed that we are ready to activate Franco-German relations with a new impetus," Merkel said in Paris during a joint news conference with French President Emmanuel Macron.
When the two leaders met in May, the day after Macron's inauguration as French president, they pledged to create a new "road map" for medium-term cooperation and for reviving the EU.
Fiscal convergence
The governments are also working on developing a common line on European Commission proposals for bringing tax regimes into alignment across the bloc. Macron said that they had also agreed on a "project of fiscal convergence for enterprises."
Merkel acknowledged tax convergence was "not a simple subject, it is even a thorny one," but it would "permit the common market to develop."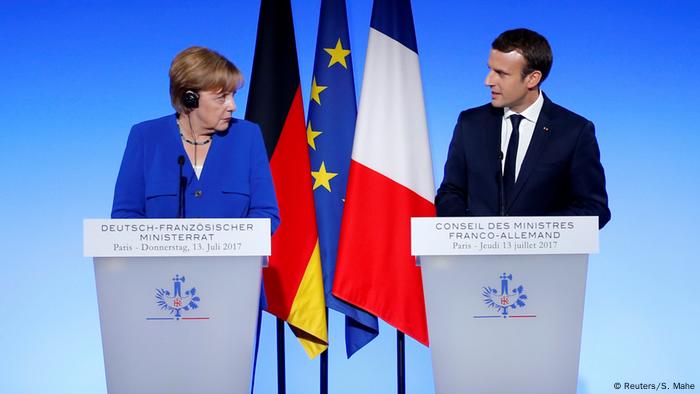 Chancellor Angela Merkel and President Emmanuel Macron have developed close cooperation since the day after his inauguration.
Revamp required
The spring edition of the twice yearly cabinet meeting had been postponed to July due to elections in France.
Ahead of the 19th holding of the joint cabinet meeting in Paris, Macron had renewed his call for reforms of the EU and specifically the eurozone, saying "the European Treaties will have to be changed some time, as this Europe is incomplete. The question is not whether we change, but when and how."
Afterwards, the two leaders said concrete details of their proposals on eurozone governance would be "developed later." But they "already recognize that the current architecture of the eurozone presents
persistent faults, and they share a desire to envisage new initiatives to reinforce it."
The French president has also proposed creating a finance minister, parliament and a common budget for the eurozone, which would require changes to EU treaties.
No single debt pool
Responding to fears that German taxpayers may have to shoulder the burden of shared debts, Macron said he was not in favor of turning national debts into a single pool of eurozone debt.
Macron, who beat far-right presidential candidate Marine Le Pen in May, conceded that the French economy needed urgent reforms, but added that it was up to Germany to correct the "dysfunctions" in the eurozone and give it "the fate it deserves."
"Germany ... has a strong economy, but it has demographic weaknesses, economic and trade imbalances with its neighbours and shared responsibilities to give the euro area the future it deserves," he said ahead of the meeting. "Germany must concern itself with the reinvigoration of public and private investment in Europe," Macron had said ahead of the meeting.
Merkel has broadly welcomed his reforms, but most analysts doubt there will be any major changes until after Germany's federal election on September 24, where Merkel will seek a fourth term.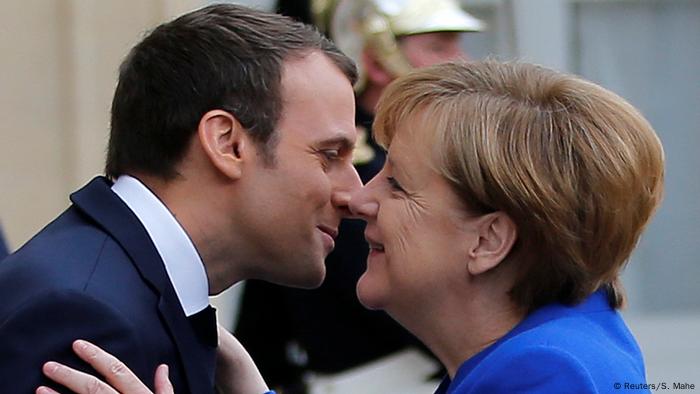 Macron and Merkel meet in Paris at the Elysee Palace
Defense cooperation
The two countries are to work together on a series of defense projects. They include a long-term replacement for their current fleets of fighter planes, a joint indirect fire artillery system and a new "major ground combat system."
"The aim of this joint fighter jet project is to do research and development together... to use it together... and to coordinate on exports," Macron said as he described it as "a profound revolution."
Europe's two fighter jets are the Rafale made by Dassault and the Eurofighter, a joint project between Germany, Britain, Italy and Spain.
Some of the projects would be opened up to other European countries once they are "sufficiently developed," they said.
Speaking later in the day in a defense policy speech, Macron said French military spending would be increased from next year in order to reach a target of two percent of economic output by 2025. "It's a considerable effort, considering the current context of budgetary constraints," Macron said. Defense spending would reach 34.2 billion euros ($38.98 billion) in 2018, including 650 million euros for external operations, Macron said.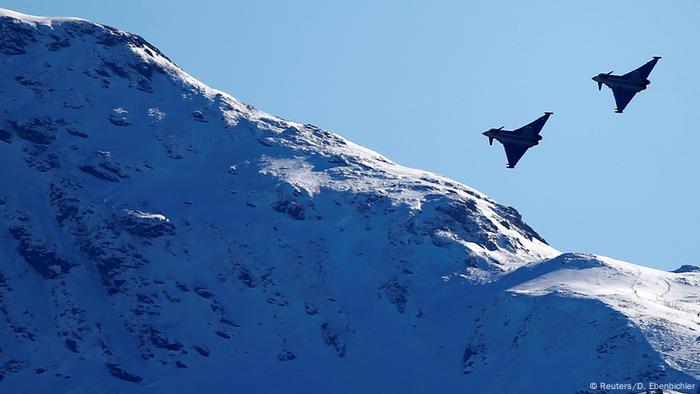 Eurofighter Typhoon aircraft during an aerial exhibition
Bilingual school programs
Macron confirmed that bilingual French-German school programs would be reinstated. They had been abolished under his socialist predecessor Francois Hollande.
A record 540,000 middle school students would benefit from German language teaching Macron said.
Welcoming the announcement Merkel said "Of course, one understands the culture of another country better when one speaks its language."
jm/rt (AFP, dpa, Reuters)