Top defector Bernd Lucke remained undecided on Friday on whether to proceed with his preparations to form a newer party after losing the leadership of the AfD to Petry last Sunday during a vote in Essen watched nationwide.
After convening her 13-member executive on Friday, Petry said the AfD has lost about 10 percent of its previous 21,000 members. But, she insisted this would be offset in coming months by new entrants.
Lucke, a 52-year-old economics professor and pro-business liberal, who co-founded the AfD in 2013, told the German news agency DPA on the Friday that the mood among fellow defectors was excellent.
"I hadn't expected that," Lucke said, adding that he had perceived an anti-foreigner sentiment among the remaining AfD membership.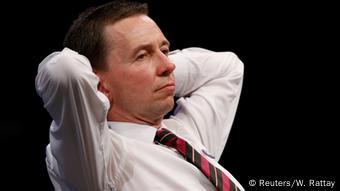 Bernd Lucke says he's waiting to form next party
Posts to be retained as independents
DPA reported that Lucke and four other members of the European Parliament previously elected on the AfD ticket had decided to stay in the Strasbourg-based assembly as independents.
Numerous defectors elected to regional state assemblies, city and county councils across Germany also intended to carry on as independents, the news agency reported.
Petry demanded on Friday that Lucke and his followers renounce their seats, but added that she did not, however, expect that this would happen.
The 40-year-old businesswoman, who previously led the AfD in Germany's eastern state of Saxony, promoted links earlier this year with the anti-immigrant Pegida movement.
Lucke said plans for a replacement party endorsed by defectors were likely to be held in reserve until regional state elections in the states of Baden-Württemberg and Rhineland-Palatinate early next year.
'Always against everything'
One defector elected to Thuringia's state's assembly in Erfurt, Jens Krumpe, said on Friday he had left the AfD because he did not want to belong to a party that is "always against everything, backs resentments against minorities, and would prefer most to disestablish the political system of the Federal Republic."
Chancellor Angela Merkel is reportedly keen to retain right-leaning voters within her own Christian Democrats and has rejected any dealings with the AfD.
The party narrowly failed to pass the 5-percent threshold to enter the national parliament in 2013.
ipj/kms (dpa, Reuters, AFP)