Former German Defense Minister Karl-Theodor zu Guttenberg, who was forced to resign over allegations that he had plagiarized other authors in his doctoral thesis, does not want a university review into the affair to be made public, according to reports in the German media.
Friday's edition of the daily Süddeutsche Zeitung said Guttenberg's lawyers would object on the grounds of breach of privacy if the university tried to publish its findings.
The University of Bayreuth, where Guttenberg completed his doctorate in 2008, withdrew his Ph.D. title when it emerged that parts of his thesis had been lifted from other works and incorrectly attributed.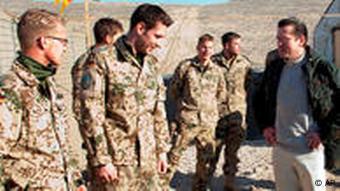 Guttenberg had been a popular and charismatic politician
The university commission tasked with examining the thesis has now largely completed its work and wants to make its findings available in early May. The Süddeutsche Zeitung suggested the report may reveal that Guttenberg acted deliberately.
Public interest
University of Bayreuth President Rüdiger Bormann told the daily Tagesspiegel he hoped that Guttenberg would accept the publication of the commission's findings.
"We want to make the conclusions public - they also address the question of whether it was a deliberate act," Bormann said. "There is a strong public interest in the university's appraisal of the case."
Guttenberg resigned from his position as defense minister at the end of March after weeks of revelations about his academic credentials. Guttenberg admitted he had made errors, but many academics and opposition politicians accused him of deliberate deception.
In a related story, it seems that Guttenberg is unlikely to be prosecuted for his misdemeanor. The Spiegel news magazine reported that none of the authors in question have so far accused him of breach of copyright.
Author: Joanna Impey (AP, dpa, Reuters)
Editor: Sean Sinico