German Defense Minister Karl-Theodor zu Guttenberg announced his resignation on Tuesday. He had been embroiled in weeks of scandal over allegations of plagiarism in his Ph.D. thesis.
"It's the most painful decision of my life," Guttenberg said at a press conference in Berlin.
Guttenberg made it clear it wasn't easy to give up the position, which had meant so much to him. He added that he wanted to avoid "political damage."
Guttenberg thanked German Chancellor Angela Merkel for her support over the past few weeks. He said "I was always ready to fight, but I reached the limits of my strength."
For her part, Merkel said she had accepted Guttenberg's resignation "with a heavy heart."
"I very much regret his resignation," Merkel told a news conference. "But I also understand his personal decision."
Political reaction
German politicians have been quick to respond to the news.
For Thomas Oppermann of the opposition center-left Social Democratic Party, Guttenberg's resignation was "long overdue" and "unavoidable." Oppermann added that the affiar had damaged Merkel's credibility, because she had continued to back her defense minister.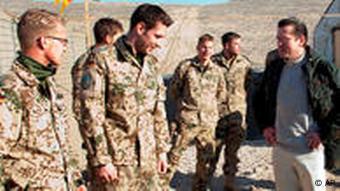 Guttenberg was a popular and dynamic defense minister
"She has really disgraced herself," Oppermann said. "She has brought shame on the reputation of politics."
German Interior Minister Thomas de Maiziere said he had learnt of the news of Guttenberg's resignation "with regret and with respect." It remains unclear who will become the new defense minister.
Gesine Lötzsch of the Left Party commented that the resignation "was the only correct decision." She added, "anything else would have damaged Germany's standing in the academic world."
Mounting criticism
The University of Bayreuth had already stripped Guttenberg of his law doctorate last week. Guttenberg apologized to the German parliament, and said he had made "grave errors" in his thesis, but insisted he did not intentionally copy it.
Pressure mounted on him to resign, after at least 17,000 academics signed an open letter to the German chancellor on Monday, in which they said the plagiarism scandal made a "mockery" of the academic profession.
Guttenberg, 39, was seen as one of the most popular politicians in Germany, and was tipped as a future chancellor. He was a rising star in the Christian Social Union (CSU), the Bavarian sister party of Merkel's center-right Christian Democrats.
CSU Head Horst Seehofer told reporters "I am, like the whole of the party, very concerned and shaken."
"It's a very painful step for the CSU," Seehofer added.
Series of scandals
Guttenberg had weathered a number of other scandals in his time as defense minister. Journalists had criticized the ministry after the death of a cadet on board a naval training ship in November, which apparently prompted a mutiny. He had also been under fire over his handling of a controversial Afghan airstrike in 2009.
In addition, Guttenberg had prompted criticism in December for taking his glamorous television-presenter wife on a visit to German troops in Afghanistan, along with a corps of press photographers.
Author: Joanna Impey (dpa, Reuters)
Editor: Rob Turner