In an interview with the Funke media group newspapers to be published on Friday, foreign minister in the last government Sigmar Gabriel had some harsh words for Martin Schulz and for the Social Democratic Party (SPD) which he had led for eight years, from 2009 until 2017.
Gabriel complained of a lack of appreciation from Schulz's new SPD leadership for his work as foreign minister which, he said, had been praised by the wider public. "I have enjoyed carrying out the role of foreign minister," Gabriel said in the interview. "And in the eyes of the public I have clearly fulfilled my duties."
"It is clear unfortunately, that the public's regard for my work meant absolutely nothing to the new SPD leadership," Gabriel said.
Read more: Who is Andrea Nahles, the potential new SPD leader?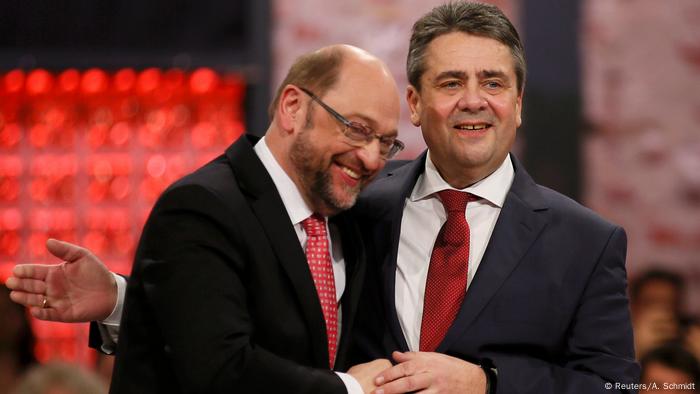 Martin Schulz and Sigmar Gabriel in March 2017
A lack of respect
While the 58-year-old Gabriel admitted that it was the right of the leadership to replace ministers, he regretted the way it had been done: "The only thing left, really, is remorse over how disrespectful we've become with one another in our dealings and how little someone's word still counts," he said.
Gabriel did not give further details on the nature of the promises but it had been rumored that Schulz had assured Gabriel he would keep his job as foreign minister in the new government.
However, on Wednesday, Schulz said he wanted the foreign minister job, even though he had said after the September election that he would not serve in a cabinet led by Chancellor Angela Merkel.
"I am too much from a world in which you do not just look sideways but straight in the eyes and tell the truth," Gabriel said. "That evidently has fallen out of fashion."
More time with the family
The foreign ministry confirmed Gabriel would not be attending the Munich Security Conference or upcoming meetings to discuss the coalition against the "Islamic State" militant group in Kuwait and an informal EU foreign ministers' meeting in Bulgaria next week.
On a lighter note, Gabriel confirmed his young daughter Marie had told him: "Don't be sad, Papa, you will have still more time for us now," and referring to Schulz, who wears a beard, she suggested: "It's better than the man with the hair on his face."
Gabriel gained support from Stephan Weil, the SPD head of state government in Lower Saxony. He said Gabriel's career was not over and that he had done good work: "I am sure we will keep hearing from him," Weil said on Thursday. "This is not the end of his political work or his political career."
While the SPD and Chancellor Angela Merkel's conservatives reached a coalition deal for a new government earlier this week, it still has to be approved by the 463,000 SPD party members during conferences set for late February and early March.
jm/bw (dpa, AFP)