Step into Hall 17, and you'll see them everywhere — big ones lifting car tires and pallets, small ones working with smartphone batteries, sorting tiles or even picking up and moving golf balls like chicken eggs.
Robots are eye-catching but hardly a novelty at the Hannover Messe, the world's largest industrial exposition. Deployed regularly in large and small assembly lines, they've become a permanent part of an increasingly automated production process.
Hanover offers a picture of where automation is heading, and how it's broadening its appeal. Machines are being networked more extensively, introduced into new fields and turned toward businesses and legacy manufacturers that may be late to — or only now comfortable with —the idea of networking their production.
Behind it all is competition and market demand. Customers, whether the end-user or another business, expect their products to arrive more rapidly.
"It's about delivering something as quickly as possible to the customer," said Hans Thalbauer, the senior vice president for digital supply chain at German software company SAP. "We want to deliver something within an hour, within 30 minutes in special cases."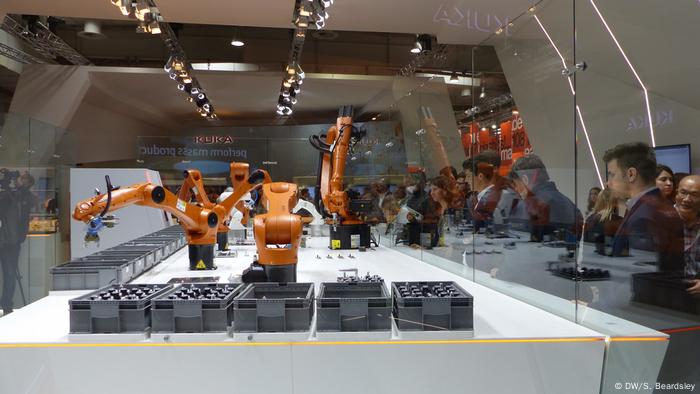 No longer a novelty, robots are integrated into production floors large and small. The question now is how to improve them and network them further.
Positive sign for German industry
The broadening embrace of automation is a positive sign for the future German economy in particular, analysts say. Many feared that the country's celebrated class of small- and mid-sized enterprises — its Mittelstand — was content to stick with its current success and leave disruptive innovation to smaller firms and startups.
Yet the smaller firms and startups most eager to experiment with new applications often lack the resources of larger, more established businesses. Hanover coined the term "Industry 4.0" several years ago in a bid to bring the two sides together, an effort that analysts say is finally paying off.
A recent study by the German digital association Bitkom found that German firms are moving progressively toward connecting their machines. Every fourth machine was smart" or networked, and firms are working more often with other firms instead of outside consultants, according to the poll of more than 500 industries.
Artificial intelligence
Artificial intelligence, or AI, in particular, is considered crucial for productivity gains in the future German economy. AI is based on machine learning, or the concept that software can use a baseline set of rules to sort information and then apply it without explicit programming instructions.
Technology platforms around the world already use AI, most commonly for refining search functions, where computers can improve search results based on past user actions. The applications for industry are widespread, however, according to a 2017 report by consultant firm McKinsey & Company. AI can help businesses with predictative maintenance for their factory floor machines, and it can speed up research and development by running virtual scenarios, similar to games, in which software learns what works and what doesn't.
Hanover shows companies how those collaborations can work. Toyota Material Handling — a division of the Japanese carmaker which makes warehouse equipment like forklifts — is working with Microsoft to develop drone product-movers in its warehouse. Although a few years from production, the collection of forklifts and dollies will be programmed to communicate with one another as they move small parcels across warehouse floors.
Toyota Machine Handling is working with Microsoft on an automated "swarm technology" concept. Self-learning robots will be able to communicate with one another to move and deliver items more quickly.
The software learns first in a virtual environment created by Microsoft. Given certain rules, the virtual drones navigate the layout of the warehouse while applying their rules and then receiving negative and positive feedback. Whenever they learn a lesson — say, by crashing into another drone — they share the information with other drones.
"This is really the wave of the future," said Susan Jackson, director of industry solutions for retail and manufacturing at Microsoft. "Instead of spending hours, manhours and manhours of programming of how to locate within a warehouse or a 3D type of environment, now you can use a program to train and deep-learn on its own."
Retrofitting
Even older production floors stand to benefit from automation. Many exhibitors in Hanover are offering retrofit technology.
"It comes down to the fact that we have these production floors already," said Detlef Zühlke, the executive chairman of one such company in Germany, SmartFactory. "How do we bring them into a digitalized future?"
There are challenges ahead. Workers need to be trained to work with automation. And because automation requires the fast movement of massive data loads, networks need to be extended and developed further. Network reach has been a challenge in Germany especially, something the new government has promised to remedy.
"This has to happen with the networks in place," Zühlke said of future technology and training. "And I trust that the promises made in the coalition agreement will actually take place this time."