Bangladesh police arrested a schoolboy on September 30, 2015 for posting "offensive remarks about Islam" on Facebook. He is a student of class nine and lives in Magura, a district far from the capital, Dhaka. The 15-year-old schoolboy is the latest victim of a law that was introduced in 2006 and amended in 2013.
The first arrests under the law occurred in April 2013 when four bloggers were detained for 'defaming' a religion following massive street protests by Islamists demanding the death penalty for atheist bloggers. More than 100 arrests have been made since then.
Punishment includes 14 years jail, fine
The Information, Communication and Technology Act of 2006, also known as the ICT Act, has been amended twice. However, debate on the law centers on Section 57. Under this section, anyone can be prosecuted for publishing material on the Internet or in digital form that is ''false and obscene.'' The law also stipulates that such material must not lead to a "deterioration of law and order," or "prejudice the image of the state or a person," or "hurt religious belief."
Jyotirmoy Barua, a lawyer based in Dhaka and known for representing bloggers in court, said, "Section 57 of the ICT Act is so vague that anything can be said to come within the purview of this section. It has seven self-contradictory elements that have not been defined in the Act.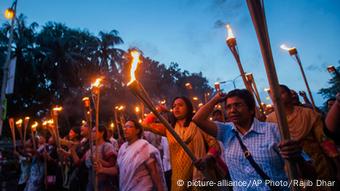 Four bloggers have been killed this year
"Due to this vagueness the government, as well as private individuals are misusing the law either for personal vengeance or to curb the freedom of expression," he continues.
Bloggers demand removal of Section 57
Three of the bloggers arrested in 2013 are now living abroad. Like many other bloggers and activists, they have been demanding the removal of Section 57 from the Act.
Subrata Shuvo, a blogger living in Sweden in exile, told DW that, "due to the enactment of Section 57, many people have already stopped posting online. Nobody is voicing their opposition to the government's wrongdoings."
Shuvo was lucky as he had been granted bail before the law was amended to make alleged offenses non-bailable in 2013. He left Bangladesh in June 2015 after the latest run of attacks on atheist bloggers began in his home country. Four bloggers have been killed this year.
"According to the law, a simple comment or "like" on Facebook could be punishable by a sentence of 7 to 14 years in jail and a fine of 10 million taka (one hundred thousand euros)," he said.
A tool to harass political opponents?
Rasel Parvez, another blogger arrested in 2013, also thinks there has been a tendency to use the law for political purposes. Apart from the arrests made for Facebook posts that "may cause hurt to religious belief," some people have been detained for criticizing the Prime Minister of Bangladesh, Sheikh Hasina.
A youth has been sentenced to seven years in jail last year for "sharing a parody song" on the country's founding leader Sheikh Mujibur Rahman and her daughter Sheikh Hasina. He was also fined 10,000 Taka (100 euros).
In another case, a former mayor was arrested last month for "derogatory comments" about Sheikh Mujibur Rahman. Blogger Parvez claims that "Bangladesh's law enforcement agencies are not technically well equipped enough to monitor the internet. As a result, members of the ruling party file cases against people they don't like and the police arrest them."
Jyotirmoy Barua thinks the government should abolish Section 57 of the ICT Act. He said, "I have already moved public interest litigation before the High Court of Bangladesh challenging its constitutionality. I am hoping to get a positive result in that case.
Law Minister considers review
While Bangladesh's Information Minister has dismissed calls to repeal Section 57 of the ICT Act, the Law Minister has a certain willingness to talk about the issue. In an interview with DW's Dhaka correspondent, Harun Ur Rashid, Law Minister Shafique Ahmed said that the government would review Section 57 of the Act.
"We will discuss the issue with activists who think the section curbs freedom of expression. We will try to understand their concern," says the minister. But he makes no promises that change will come.