Shammi Haque's name hasn't been published on any of the so-called hit lists recently released by religious fundamentalists in Bangladesh. Not yet, that is. But that does not mean she is not under threat.
Following the murder in August of blogger Niladri Chattopadhyay, better known by his pen name Niloy Neel, bloggers in the South Asian nation have realized that anyone could be the next victim. Shammi Haque was a close associate of Niloy's having jointly attended many protests against religious fundamentalism in Dhaka right up to the time Niloy was murdered.
Shammi Haque, a nominee for the DW 2015 Bobs Awards, has filed a general diary with police seeking protection. Three policemen now follow her whenever she goes outside her Dhaka residence. In a DW interview, the 23-year-old atheist blogger explains why she feels threatened and what makes Islamists angry about bloggers in her country.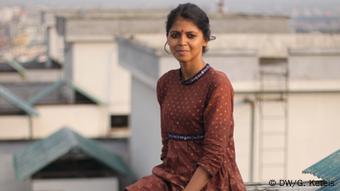 Haque: 'Because of the government's inactivity, secular bloggers are being killed one after the other'
DW: Why do you think religious fundamentalists could attack you?
Shammi Haque: The recent series of attacks on bloggers and activists has scared me. I went into hiding after the murder of Niloy in August. When I went out of my residence in Dhaka for a walk in the evening of August 27, two youths started following me. They were behaving very suspiciously.
Luckily, with the help of two friends, I managed to give them the slip. However, we managed to take their pictures and later informed the police about it. Meanwhile, I have received several death threats over the phone because of my activities as an activist and blogger.
There is a considerable degree of mistrust between the police and bloggers in Bangladesh. Some bloggers have even claimed that seeking police protection actually increases the chance of being killed. Why makes you think they can be trusted?
It's true that our police forces are subject to many controversies. Atheist blogger and writer Avijit Roy was hacked to death right in front of the police in Dhaka on February 26. So far they have failed to arrest the real culprits.
And it's not hard for them to leak sensitive information. I am aware of this problem. However, I felt very scared after that incident when I was followed, and thought the picture of those suspects might help the police identify them.
Religious fundamentalists are believed to be behind the recent attacks on the bloggers. Why are they so hostile to bloggers?
Bangladesh is a secular country, according to the Constitution. However, the concept is not established in society here. Right after the 2013 Shahbag protests, a movement that echoed the need of a secular society in the country, a misconception became widespread and that is that only atheists write blogs.
And religious fanatics believe that atheists are the enemies of Islam and they should be killed. They even claim that killing an atheist ensures an easy entry to the heaven.
However, the situation would not have deteriorated so badly if the government had cracked down on the religious fanatics. Now, because of the government's inactivity, secular bloggers are being killed one after the other.
Monirul Islam, a joint commissioner of the detective branch of the Dhaka police, has said, that some bloggers intentionally "spread hate and offend religious sentiment.'' What is your view on this?
I don't even believe in the term ''offending religious sentiment.'' Religion isn't so fragile that writing a blog about it could defame it. For example, someone posted a picture of Kaaba on Facebook with a claim that the picture was taken 2,000 years ago. Now, I could challenge that because there were no cameras at that time. If someone thinks asking questions regarding the authenticity of the picture defames their religion, it's their problem.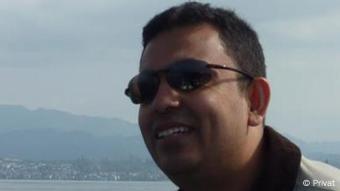 Atheist blogger Avijit Roy, the founder of Mukto-Mona, was hacked to death this February
I don't think bloggers are defaming any religion at all. They are freethinkers and most importantly, they are not attacking anyone with machetes.
Some Bangladeshi bloggers reportedly celebrated a "satirical week on Muhammad" on Facebook after the Charlie Hebdo shooting in January. Do you consider it to be a deliberate attempt to defame religion?
I don't think so. Say, Prophet Muhammad married a five-year-old girl when he was 50. Now, considering science and nature, I could say that it was a child marriage and ask a question like how could a leader of that level marry a five-year old girl? I don't think asking such questions or organizing a Facebook event to discuss such issues defames Islam.
The interview was conducted by Arafatul Islam