Maldives President Abdulla Yameen conceded defeat to opposition candidate Ibrahim Mohamed Solih (pictured above) following Sunday's presidential election. The strongman president promised a smooth transition of power.
The Maldives electoral commission released provisional results on Monday, declaring Solih the winner with 58.3 percent of the vote.
Read more: Maldives: Election officials hail strong turnout as polls close
The election had been dubbed a "referendum on freedom" by rights groups and opposition parties.
During his five-year-rule, President Yameen jailed two former presidents, including his half-brother, Maumoon Abdul Gayoom, his former vice president, two Supreme Court judges, two former defense ministers and scores of other government critics.
Rights groups have criticized the trial of former president Mohamed Nasheed, who in 2015 was sentenced to 13 years in prison, and is currently living in exile in Sri Lanka. The vice president, Ahmed Adeeb, was arrested in 2015 after what the government called a failed assassination attempt on Yameen. Adeeb is currently serving a 33-year prison sentence on terrorism and corruption charges.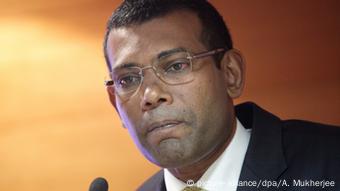 Mohamed Nasheed served as the fourth president of the Maldives from 2008 to 2012
But opposition parties – many of them Yameen's former political partners – managed to forge an alliance in exile with the aim of ousting the ruling Progressive Party of Maldives (PPM) from power. They fielded a single candidate –Solih – to challenge Yameen in the election.
As China gains more political influence across the archipelago, India wanted an electoral setback for "pro-Beijing" President Yameen.
Under Yameen, the Maldivian economy showed signs of improvement, although analysts say the country's economic growth was partly due to aid and investment from China.
Beijing considers the Maldives an important route in its "Belt and Road" initiative which, along with other objectives, aims to connect the Indian Ocean to Central Asia.
Ahead of the election, former president Nasheed had warned Maldivians that the vote could be their last chance to liberate the country from Chinese influence.
In an interveiw with DW, Nasheed said that Solih's victory will restore his country's ties with India. He also thanked the European Union for its support of the democratic process.
DW: It is now clear that Ibrahim Mohamed Solih, the joint opposition candidate, has been elected the new president of the Maldives after claiming an unassailable lead over President Abdulla Yameen. How do you look at Solih's victory?
Mohamed Nasheed: The people have made their decision. They have clearly said how they want the Maldives to be. This was a vote for democracy, which will put the country back on the path of reforms. We'll now be able to strengthen our democratic institutions.
The last five years [under President Yameen] were not good for Maldivians. There have been accusations of torture and ill-treatment [of political opponents], influence over judiciary, arrests of judges, disappearances, money laundering, and many other things. So Sunday's vote was a clear message by the people that they don't want this to happen in their country anymore.
We're grateful to the European Union, the United States, Britain, India and Sri Lanka, for their support [to the opposition] during difficult times.
The voter turnout was remarkable – close to 90 percent. Do you think that it played a decisive role in Solih's victory?
Definitely. We always knew that if people came out in big numbers, it would favor us. In the first few hours of voting, the government tried to slow down the voting process, but the participation of Maldivians in the election was overwhelming.
Once the four-party opposition alliance agreed on a single presidential candidate, it changed the dynamics of the election.
Although President Yameen has now conceded, he was initially a bit reluctant to accept the results. Why so?
President Yameen is not particularly known for his democratic credentials. I think he tried to explore other options before accepting defeat.
Read more: Former President Mohamed Nasheed: 'Maldives government selling oil to North Korea'
Does Solih's victory pave the way for your return to the Maldives?
It does. I'll make a decision on this in the coming weeks.
As the Maldives has drifted closer to China in the past five years, can Solih's victory upset Beijing?
It is difficult for command economies to understand democratic processes. The Maldivian people suffered a lot and they came out to make their voice heard. China can't understand this. The Maldives is not an authoritarian country.
We would like to have friendly ties with countries who share our democratic ideals. We would like to have strong ties with the EU, the US, and countries like India.
How likely is it that the incoming government will scrap China's ambitious One Belt One Road projects?
The Maldives' interests are supreme. We are not a client state for anyone.
Can we say that the Maldives' traditional alliance with India will be reset under Solih's presidency?
I am sure about that. It will be beneficial for us.
Read more: India 'disturbed' by Maldives' political crisis
Mohamed Nasheed served as the fourth president of the Maldives from 2008 to 2012. He was the first democratically elected president of the Maldives and one of the founders of the Maldivian Democratic Party. He currently lives in exile in Sri Lanka.
The interview was conducted by Shamil Shams.