The European Commission is preparing to abandon a plan to force manufacturers to make some home appliances use less energy and last longer before breaking down. Such regulations are seen as too intrusive to citizens, the commission concluded.
"We are focusing on the things that matter, concrete actions that improve people's lives," said Commission President Jean-Claude Juncker yesterday. No new plans have been put forward so far this year on energy efficiency requirements or ecodesign rules, which make products longer-lasting and easier to repair or recycle.
An analysis into how home appliances like toasters, hair dryers and coffee machines can be made more efficient was due this year, but had been delayed since January over fears that such a proposal would attract the attention of the British tabloid press ahead of the Brexit referendum in the United Kingdom, according to commission sources.
European Union ecodesign and energy efficiency rules for consumer products such as vacuums, toilets and light bulbs have been highlighted in the past by British tabloids as examples of EU overreach into people's daily lives.
False toast claims
Toasters in particular became an item of focus ahead of the June referendum after David Coburn, a parliamentarian from the UK Independence Party, told British media outlets that EU energy savings regulations had made his toast "all peely-wally." In fact no such toaster regulation exists, although it had been considered.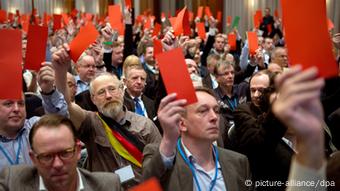 Eurosceptic parties like Alternative for Germany say they want less EU regulation
Stephane Arditi, co-ordinator of the campaign group Cool Products, says Brexit and a rise in euroskepticism across the continent is making the European Commission balk at proposing any new regulations on consumer goods.
"To think that the Commission is making decisions on environmental policy based on fear of the UK tabloids seems sad, and also pointless," he told DW. "Whatever they propose will be bashed by the UK tabloids - this is a PR problem, not a policy problem."
Criticism of EU environment regulation by euroskeptic politicians has not been limited to the UK. In Germany, the right-wing Alternative for Germany party is selling incandescent light bulbs on its website as a protest against the EU.
Incandescent light bulbs have been phased out by ecodesign standards that favor compact fluorescent lamps (CFLs) and light emitting diodes (LEDs), which use 25 to 80 percent less energy than traditional incandescents.
Economic backlash for consumers
Yet Arditi says pulling back on these regulations will place a burden on EU citizens, who will have to pay higher energy costs and replace their appliances more frequently.
According to the commission's analysis, existing EU efficiency requirements currently provide European consumers an average energy bill savings of 465 euros ($508) per year.
"Right now, the rest of the world is jealous of the EU ecodesign criteria - they are accelerating the pace of their measures to catch up with Europe," says Arditi.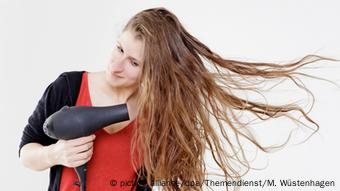 Ecodesign rules are intended to make products like hairdryers more durable
But in 2016, the EU has failed to adopt a single measure, he added. "It's the first time that has happened since the 2009 revision of this directive."
Arditi says that in the future, the trend may be that the commission focus more on regulating products used by industry and businesses, because these are less likely than consumer goods to attract negative attention from euroskeptic media and politicians.
This is misguided, he thinks, because there are so many more consumer goods than industrial goods. In the long run, Europeans will end up with less-efficient and less-durable consumer goods than people in other regions such as the United States.
Product manufacturers have also complained about the ecodesign freeze. Eight industry associations representing product manufacturers released a joint statement this week opposing the delay in new ecodesign criteria.
"Europe's ecodesign framework will continue to benefit citizens and businesses if the right conditions are created," said Paolo Falcioni, director general of appliance manufacturers' group CECED.
Staying small on small things
Alex Greer from the EU reform think tank Open Europe says that the commission is correct to be responding to citizen concern about overregulation. As Juncker has said in the past, the EU should be "big on the big things, and small on the small things."
The EU "has a formidable to-do list, with Russia, the euro, Turkey, Schengen, terrorism, refugees, Brexit, CETA and TTIP all as competing causes for concern," Greer told DW.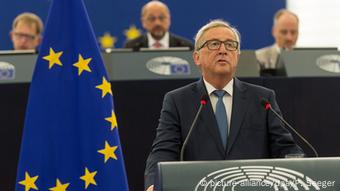 Commission President Jean-Claude Juncker says the EU needs to focus on the big issues
"The last thing the EU needs is consumer backlash, so perhaps the commission is beginning to learn that less is more."
But Jack Hunter from the environmental campaign group EEB says that axing environmental regulations is the wrong response to euroskepticism. Instead, national governments need to do a better job of explaining to people how the regulations benefit them.
"Ending stupid laws is sensible and nobody's going to argue with that," Hunter told DW. "The problem is that it's a myth - most laws are there for a very good reason, and it's taken a long time to make them right."
"Ecodesign is exactly that," he added. "It's making toasters and kettles and hairdryers better and cheaper to run, so they don't break after half a year - all of this without raising the price or affecting jobs."
"Very simply, it's quality control - there's nothing not to like about ecodesign."