The European Union executive may allow member states, in exceptional circumstances, to reassert some border controls that disappeared in 1995 under the Schengen treaty in response to demands for more national power to fight a wave of migration from North Africa.
In a letter to Italian Prime Minister Silvio Berlusconi and French President Nicolas Sarkozy, EU Commission President Jose Manuel Barroso said that it may be possible to permit countries reintroduce limited controls.
"The temporary restoration of borders is one of the possibilities, provided this is subject to specific and clearly defined criteria, that could be an element to strengthen the governance of the Schengen agreement," Barroso wrote.
Currently, countries can only set up temporary border checks in cases where there is a "serious threat" to public order or internal security, and they need to be renewed after 30 days. However, what constitutes a "serious" threat is up to each country.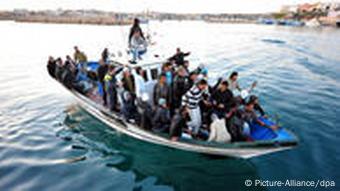 Many Tunisians want to go to France by way of Italy
Overturning Schengen?
As Italy and France struggle to deal with a massive wave of migrants fleeing North Africa, the two countries are pushing for the return of some of the border checks abolished by the 1995 Schengen agreement.
Some 25,000 migrants - most of them Tunisians - have arrived on the tiny Italian island of Lampedusa since January, many of them hoping to make it to relatives and friends in France.
Italy has complained that the EU has not done enough to help shoulder the burden, while Paris has accused Rome of trying to shirk its responsibilities by allowing illegal immigrants free transit across the border.
The EU executive plans to present an outline of its legal proposals in the coming days. If the proposal to alter the Schengen regulations is accepted, the new rules would alter one of the biggest achievements of the single European market: passport-free travel, but one which makes it harder to curb illegal migration.
Author: Sarah Harman (dpa, Reuters)
Editor: Kyle James