The European Union on Saturday condemned "police brutality and mass arrests" as Russian authorities responded to protests in some 90 cities ahead of the inauguration of President Vladimir Putin for what will be his fourth presidential term.
The protests against Putin, who many feel was re-elected through an unfair election process, were called by opposition leader Alexei Navalny, who was himself detained at a demonstration in the capital, Moscow.
Read more: Russia: Alexei Navalny arrested as anti-Putin protests sweep nation
Threat to 'fundamental freedoms'
A statement from the office of the EU's top diplomat Federica Mogherini said:
"The detention of over a thousand demonstrators and violence used against them by the Russian authorities across the country today threaten the fundamental freedoms of expression, association and assembly in the Russian Federation."
"Even if some of the demonstrations were not authorized in the location where they took place, this cannot justify police brutality and mass arrests."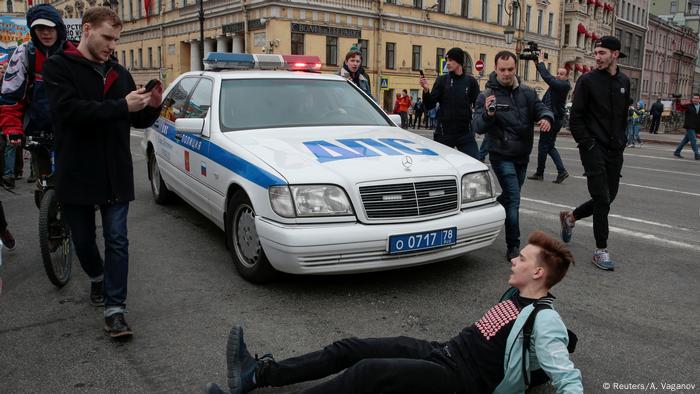 There were frequent clashes between police and protesters
Tough police action: The Russian human rights portal OVD-Info said nearly 1,600 people were arrested at the nationwide demonstrations on Saturday and that police also used batons against protesters. The events come amid widespread fears of growing political repression in the country.
Why are protesters taking to the streets? Putin has now been in power as president or prime minister for more than two decades, which some see as a dangerous monopoly. Protesters are also angry that Navalny was barred from taking part in March elections because of a felony conviction that his supporters say was fabricated to marginalize him.
When is Putin's inauguration? Putin is due to be inaugurated on Monday at the Kremlin after an election win that was the largest by any post-Soviet leader. If he serves out his six-year term, he will become Moscow's longest-serving leader since Soviet dictator Josef Stalin.

Each evening at 1830 UTC, DW's editors send out a selection of the day's hard news and quality feature journalism. You can sign up to receive it directly here.