European Union states received 580,845 first-time asylum applications in 2018, about half the number received during the 2015 migrant crisis, the EU's statistics agency reported Thursday.
The 2018 figure marks an 11 percent fall from 2017.
The number of pending asylum applications in the EU totaled 878,600 at the end of 2018, down slightly from 927,000 a year earlier.
The findings confirm a downward trend of people entering the EU through irregular crossings. The EU border and coast guard agency, Frontex, estimated around 150,000 people made this type of voyage in 2018, the lowest number in five years.
Read more: Aid money alone will not be enough to stop the causes of migration
The number of asylum applications drastically increased in 2015 and 2016, when conflicts in Syria and other Middle Eastern nations escalated and caused hundreds of thousands of people to flee.
At the peak of the migrant movements, the number of first-time asylum-seekers in the EU exceeded 1.2 million. It was Europe's biggest spike in migration since World War II.
The countries of origin for first-time asylum-seekers in the EU in 2018 were:
Syria with 80,920 applications
Afghanistan 40,990 applications
Iraq 39,595 applications
Together, the three nations accounted for almost 30 percent of the total number of people claiming asylum in Europe in 2018.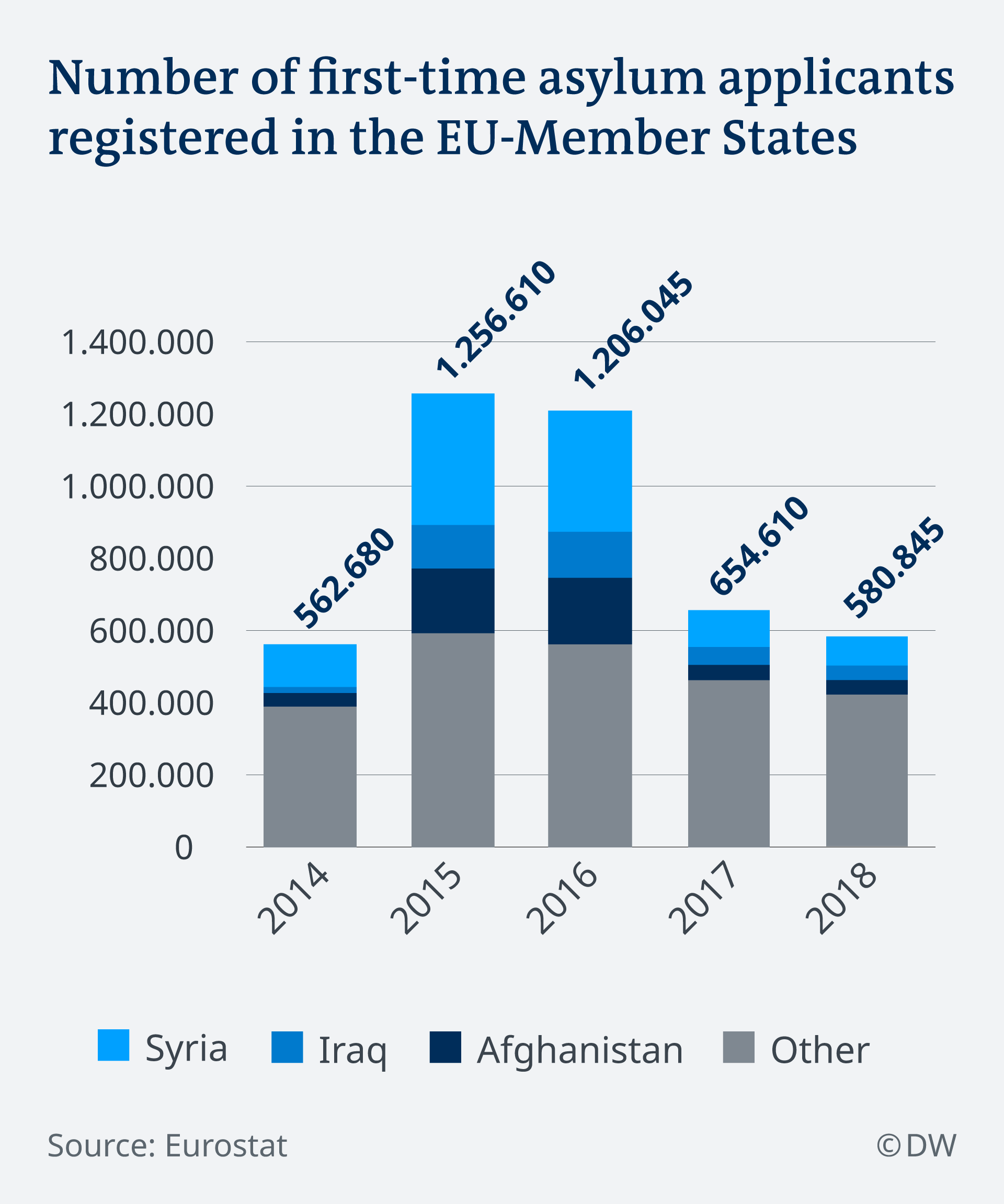 Germany remains prime destination
In percentage terms, the migrants' destinations in 2018 were:
Germany — 27.9 percent of migrants
France — 19 percent
Greece — 11.2 percent
Spain — 9.1 percent
Italy — 8.5 percent
Rome, which now has an anti-immigrant party sharing power in a coalition government, recorded the biggest drop in applications last year.
Some politicians and judges in Germany have complained that asylum applications are not made in their first EU state of entry. "Neither European nor national asylum law works. The whole system is dysfunctional," said Düsseldorf Administrative Court President Andreas Heusch earlier this month.
"We do not even manage to return asylum-seekers in the border town of Niederkrüchten just a few kilometers to the Netherlands or to Belgium within six months," Heusch said. "Our decisions are without consequences."
Read more: UN refugee compact: What you need to know
Lowest application rates
Both Hungary and Poland currently have right-wing, populist parties in government, and Hungary has taken a hard-line approach to migration and asylum. They stood out with the lowest number of asylum applications per million residents in 2018:
EU-wide average was 1,133 applicants per million population
Hungary received 65 applicants per million population
Poland received 63 applicants per million population
law/jm (dpa, Reuters)
Every day, DW's editors send out a selection of the day's hard news and quality feature journalism. Sign up for the newsletter here.