A letter written by physicist Albert Einstein to his sister Maria sold at an action in Jerusalem on Tuesday, fetching $32,000 (€28,300).
In the 1922 letter, Einstein described the difficulties facing Jews in Germany as anti-Semitic sentiment was on the rise.
"Here are brewing economically and politically dark times, so I'm happy to be able to get away from everything," wrote the then 43-year-old after leaving Berlin for a location that goes unmentioned in the letter.
At the time, Einstein left the German capital after the assassination of Foreign Minister Walter Rathenau, who was a close friend and also Jewish. Police warned Einstein he could be next.
"What is special in this letter that Einstein really forecast — he's seeing in advance, 10 years in advance — what is going to be in Germany," said Meron Eren, co-founder of the Kedem Auction House in Jerusalem, which sold the letter. The artifact's buyer has not been identified.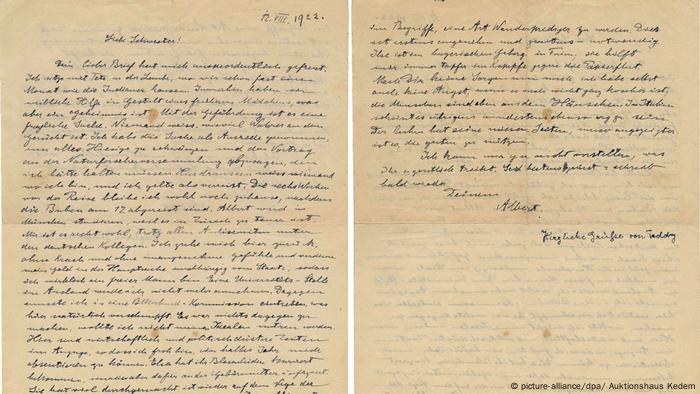 "Don't worry about me, I myself don't worry either, even if it's not quite kosher, people are very upset," Einstein wrote
'Doing pretty well despite all the anti-Semites'
Einstein is believed to have written the letter while waiting to sail out of the northern German port city of Kiel on a journey to Japan.
"Nobody knows where I am, and I'm believed to be missing," he wrote while in hiding. "I'm doing pretty well, despite all the anti-Semites among the German colleagues," he wrote.
Einstein accepted the Nobel Prize in physics three months after penning the letter. The Nazis took over Germany in 1933 and began a campaign of anti-Jewish persecution that would result in the Holocaust, which killed an estimated 6 million Jews.
Einstein was on a lecture tour abroad when the Nazis seized power, leading him to renounce his citizenship and eventually settle in the United States.
"Don't worry about me, I myself don't worry either, even if it's not quite kosher, people are very upset. In Italy, it seems to be at least as bad," Einstein wrote.
Several of Einstein's letters and notes have sold at auction in recent years, including his note on happiness to a bellboy in Japan, which fetched $1.3 million.
rs/rc (Reuters, dpa, AP)
Each evening at 1830 UTC, DW's editors send out a selection of the day's hard news and quality feature journalism. You can sign up to receive it directly here.