An unknown buyer paid $103,700 (83,600 euros) for a physics letter written by the legendary scientist Albert Einstein at a Tuesday auction in Jerusalem. Many other Einstein documents were also sold off at the event, including a note he wrote to a 22-year-old neighbor of his sisters.
Einstein wrote the scientific letter to his colleague Herman Muntz in 1928, detailing the "Third Stage of the Theory of Relativity." At the time, Einstein had already won his Nobel Prize in physics and was teaching in Berlin. The German-born scientist wrote the letter by hand and added a note on the envelope to further explain his thinking.
The document marks one of the "most exciting, feverish periods of Einstein's scientific career," auction house Winner's said.
Read more: Einstein was right - gravitational waves reconfirmed
The young woman 'at whose feet I lay'
The letter, along with other Einstein-related documents that went under the hammer on Tuesday, "reveals the complex character of the great scientist," Winner's director Gal Wiener told the AFP news agency.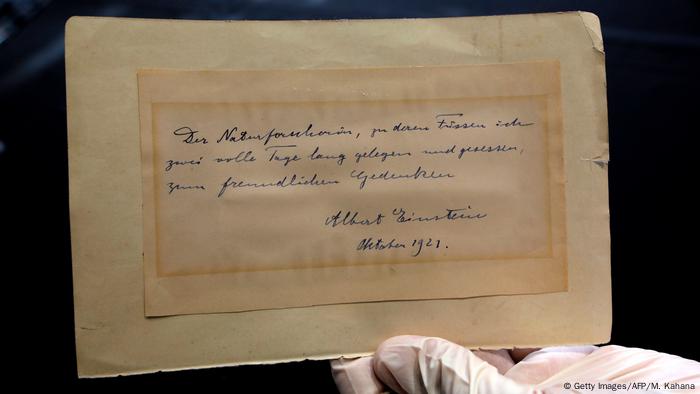 'To the scientific researcher, at whose feet I lay and sat for two full days, as a friendly souvenir' says the note in German
Notably, a private note he wrote in 1921 bears witness to another aspect of his personality. Einstein, who was 42 at the time, came to visit his sister in Florence and learned that a 22-year-old chemistry student named Elisabetta Piccini was living in the apartment upstairs. The scientist attempted to meet the woman but was turned down.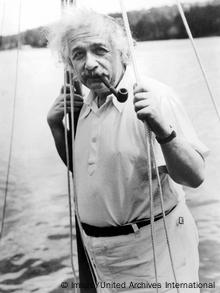 Einstein moved to the US after Hitler took power in 1933
Upon leaving, Einstein left a signed note saying: "To the scientific researcher, at whose feet I lay and sat for two full days, as a friendly souvenir." The note fetched $6,100 at the Tuesday event. The auction house dubbed the note "Einstein's Theory of Romantic Games."
Read more: Albert Einstein, a pacifist's anguish
While undisclosed buyers paid large sums on Tuesday, none of them comes close to the $1.3 million price paid for Einstein's note on happiness in October last year. Einstein jotted down the message in 1922 in Tokyo, shortly after finding out he was awarded the Nobel Prize.
"A calm and modest life brings more happiness than successful pursuit combined with constant restlessness," it said.
dj/se (AFP, AP, Reuters)