Egyptian archaeologists have discovered a more than 4,000-year-old tomb near the famed Giza pyramids just outside the capital Cairo.
The tomb was found during excavation work in Giza's western cemetery, which houses tombs of top officials from ancient Egypt's Fifth Dynasty (2465-2323 BC). Several of those tombs have already been dug up since 1842.
The tomb unveiled on Saturday likely belonged to a high ranking official known as Hetpet during the 5th Dynasty of pharaohs in ancient Egypt, the country's Antiquities Ministry announced.
Read more: Is Nefertiti hiding in the Valley of Kings' secret chambers?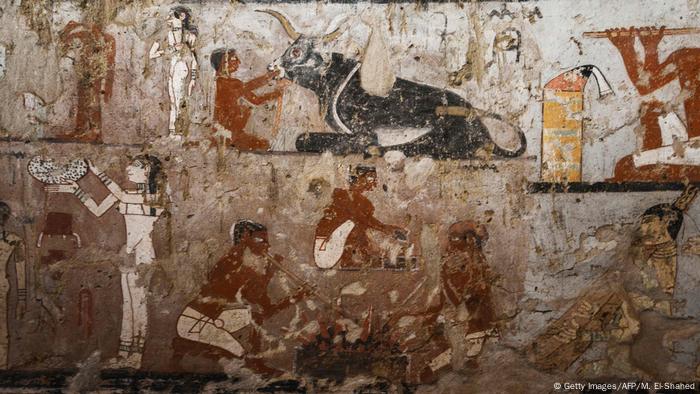 The tomb includes wall paintings depicting Hetpet in various hunting and fishing scenes
Rare inscriptions
The tomb is made of mud bricks and includes wall paintings depicting Hetpet in various hunting and fishing scenes, said Mostafa Al-Waziri, the head of Egypt's archaeological mission, Supreme Council for Antiquities.
The paintings also show two scenes featuring monkeys, popular pets at the time, one reaping fruit and another dancing before an orchestra, Al-Waziri said.
"Such scenes are rare... and have only been found previously in the [Old Kingdom] tomb of 'Ka-Iber' where a painting shows a monkey dancing in front of a guitarist, not an orchestra," Al-Waziri said.
Antiquities Minister Khaled al-Enany told reporters the new tomb includes "a purification basin on which are engraved the name of the tomb's owner and her titles."
"A German expedition had found in 1909 a collection of antiquities carrying this lady's name, or a lady who has the same name, and these antiquities were moved to the Berlin museum at the time," he said.
"And 109 years later, we find this tomb that carries Hetpet's name."
String of discoveries
Egypt has announced a series of ancient discoveries in the past few months. In December, Egyptian archaeologists unveiled two ancient tombs in the southern city of Luxor.
The tombs most likely belong to two notable figures from Egypt's 18th dynasty pharaohs, who ruled some 3,500 years ago.
In April, archaeologists discovered eight mummies inside another tomb in Luxor.
Read more: Egypt uncovers 3,500-year-old tomb of royal goldsmith in Luxor
Egyptian authorities are trying to revive the tourism industry, which is still reeling from the political turmoil and violence that followed the 2011 Arab Spring uprising against longtime dictator Hosni Mubarak.
ap/ng (AP, dpa, AFP)