Egyptian authorities admitted on Wednesday that they had detained prominent human rights lawyer Ibrahim Metwally for founding an illegal organization and spreading false news, which is illegal in Egypt.
Metwally had been representing the family of Giulio Regeni, an Italian student who was murdered under mysterious circumstances in Cairo early last year.
Read more: Italy-Egypt relations threatened by murky Cairo murder
Metwally was stopped by police as he tried to leave Egypt to attend a UN conference on forced disappearances.
The lawyer co-founded Egypt's Association of the Families of the Disappeared after his own son, Amr Ibrahim Metwally, vanished in 2013. His son was last seen near the Republican Guard headquarters as clashes broke out that left 51 supporters of deposed President Mohammed Morsi dead.
Italian student tortured, murdered
For the past year, Metwally has provided legal counsel to the parents of Giulio Regeni. The 28-year-old Italian graduate student at Cambridge University had been in Cairo doing research on Egypt's independent trade unions.
Regeni's body was found on the outskirts of Cairo on February 3, 2016. His autopsy revealed that he had been subjected to torture for up to seven days before his death.
While activists have said that his death bore the marks of police brutality, the Egyptian government has claimed that Regeni was killed by the outlawed Muslim Brotherhood in order to strain relations between Europe and Egypt. Egyptian police have also shot dead several gang members they said were responsible for Regeni's death, claiming the band wanted to rob the young Italian.
However, multiple police sources told the Reuters news agency that Regeni was in custody in the days before he death and that he was being monitored by Egyptian intelligence for some time due to his research.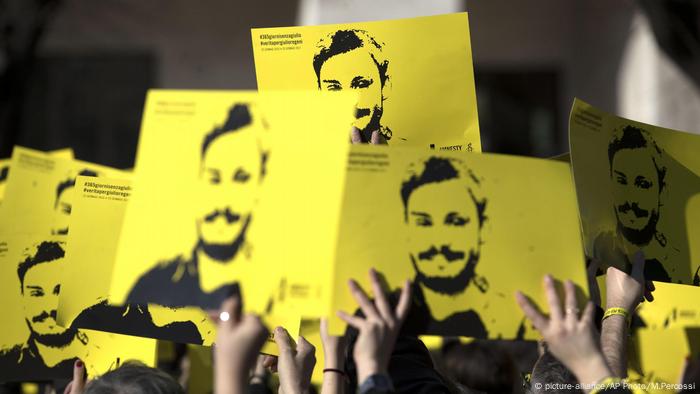 In January, Italians marked a year since Regeni's disappearance, calling for justice in his case
EU 'very disturbed' by Metwally arrest
Italy reacted by recalling its ambassador to Cairo in April 2016, citing lack of cooperation in investigating Regeni's death. Coincidentally, just as news of Metwally's arrest was being confirmed, Italy's new ambassador, Giampaolo Cantini, was arriving in Egypt.
Despite steadfast denial from the government of President Abdel Fattah el-Sissi, activists in Egypt say government opponents are routinely detained by police, sometimes for weeks or months, without charge.
The chair of the European Parliament's Subcommittee on Human Rights, Pier Antonio Panzeri, said he was "very disturbed" by the arrest of Metwally.
es/cmk (AP, AFP, dpa, Reuters)