The Italian ambassador to Egypt arrived back in his home country on Sunday after being recalled by Rome amidst an escalating diplomatic row over the brutal murder of PhD student Giulio Regeni in January. Maurizio Massari was recalled by Prime Minister Matteo Renzi after meetings between Italian investigators and their Egyptian counterparts ended badly last week.
Mostafa Suleiman, Egypt's assistant state prosecutor, said the talks were inconclusive because Italy was asking for something which "violates the Egyptian constitution," namely thousands of phone records. Officials in Rome also asked for CCTV footage, Suleiman said, but it had already been automatically deleted.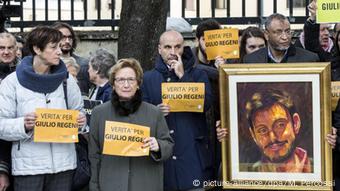 Protestors outside the Egyptian embassy in Rome call for "the truth for Giulio"
The body of 28-year-old Regeni was found nine days after he disappeared in Cairo on January 25 while on his way to attend a demonstration marking the fifth anniversary of the uprising that ousted former strongman Hosni Mubarak. Regeni, who on top of his research into labor unions also wrote several articles criticizing the government of President Abdel Fattah al-Sisi, was discovered badly mutilated on the outskirts of the Egyptian capital.
Italy skeptical of Egyptian explanation
Egyptian officials have said that Regeni was likely killed by a gang that targeted and robbed foreigners, an explanation met by outright incredulity in Rome. Although the European Union is an ally of President Sisi's regime, government sources have said that Renzi is considering asking for EU help in putting pressure on Cairo to launch a more transparent investigation into Regeni's demise.
Before the Regeni case, out of most EU states Italy enjoyed a particularly strong relationship with Egypt, as Prime Minister Renzi and President Sisi had worked together closely to promote bilateral business interests.