Italian officials have decried Egypt's latest efforts to uncover those responsible for the murder of doctoral student Giulio Regeni, who was found dead on the outskirts of Cairo after mysteriously disappearing on January 25, the anniversary of Egypt's tumultuous 2011 uprising.
Egypt's interior minister on Thursday said in a statement that they discovered the criminal gang who had murdered the Italian student and killed all four members.
The Interior Ministry notified Italian authorities that they had discovered Regeni's belongings at the residence of the gang leader's sister, including his passport and mobile, said the statement posted on the ministry's official Facebook page.
However, Italian investigators have since said the investigation was far from over after casting doubt on the narrative by Egyptian authorities.
"The case is not at all closed," Italian investigators told Italy's ANSA news agency.
Investigators said there were several inconsistencies in the narrative, adding that it was unlikely the kidnappers would have kept Regeni's possessions or would have tortured him if they wanted a ransom.
"It is not credible that an entire gang of alleged kidnappers was killed by police, thereby preventing any possibility of getting corroborating statements from any of them," ANSA reported, citing the investigators.
According to "Daily News Egypt," a Cairo-based English-language newspaper, the New Cairo prosecutor's office on Friday denied that the criminal gang was involved in the murder of the Italian student, further casting doubt on the Interior Ministry's claims.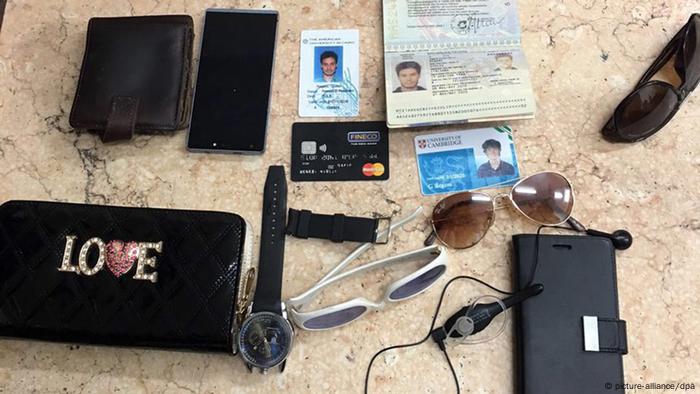 A photograph released by Egypt's Interior Ministry showing Regeni's belongings recovered during a raid
'We want the truth'
Meanwhile, Italy's Foreign Minister Paolo Gentiloni said late Friday in a tweet: "Italy insists: we want the truth."
Regeni's body was recovered days after he disappeared on the fifth anniversary of an uprising that led to the ouster of former President Hosni Mubarak in 2011.
Regeni, who wrote articles for Italy's leftist daily "Il Manifesto" under a pseudonym, researched Egypt's labor movement, which was instrumental in organizing protests against the government in 2008 and 2011.
A senior Egyptian prosecutor said Regeni's body was discovered half-naked with "signs of torture," including cigarette burns and multiple stab wounds. Human rights groups said the marks resembled the hallmarks of Egypt's state security services.
Prior to the prosecutor's statement, General Khaled Shalaby, head of the Giza investigations department, claimed that an investigation was unlikely as there were no signs of criminal intent, adding that Regeni died from a traffic accident.
"Italy will not settle for any truth of convenience," Italian Prime Minister Matteo Renzi said earlier this week in comments carried by Italy's public broadcaster Rai.