Over a month ago, 32-year-old Larissa and her child returned to Donetsk, an apparently peaceful city. Troubled, she recounted what she had gone through. "When everything started with the referendum, I knew that it would end badly. Back then, I tried to convince my family that hopes of joining Russia are in vain," she said. During the battles between Ukrainian government forces and pro-Russian separatists, she gave birth to her child. Afterwards, she decided to flee with the baby to her parents' home in a village in the southern Ukrainian region of Kherson.
Before the war in eastern Ukraine, Larissa had a high-paying job and she could afford to travel outside the country twice a year. Now she orders the bare necessities on the Internet. She even has her groceries delivered to the address of acquaintances living in the Kyiv-controlled part of the Donetsk region. "Whatever we get from shops in Russia is bad," complains the young mother. "But I had to come back to Donetsk. My husband lives here and we have our own house."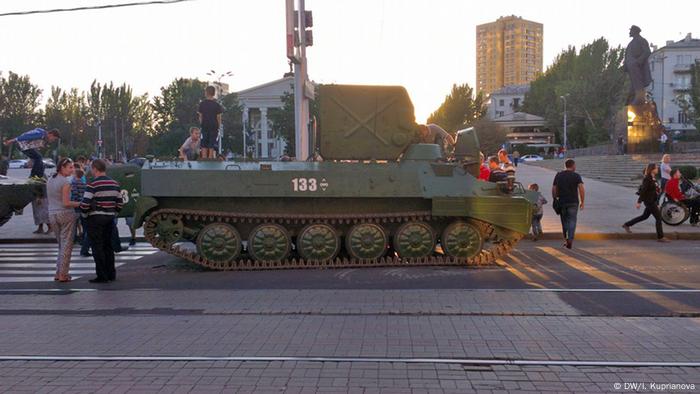 Tanks are still a part of the landscape, even though the shooting has stopped
Return for many reasons
The main reason refugees return to eastern Ukraine is ownership of apartments or houses, says Daria Pirogova. She works for the Kyiv International Institute of Sociology (KIIS), an organization which regularly conducts telephone surveys in Donbass. The second motive stated by respondents is usually professional reasons, but also having to take care of family members.
The sociologist Yaroslav Pasko thinks that most people who are returning to eastern Ukraine did not succeed in making a new beginning in other regions of Ukraine, or in Russia. Pasko himself comes from Donetsk and has been teaching at a Kyiv university since fleeing his home. But going back is actually not a mass phenomenon. "Those who have left the conflict zone with their employer – businesses or government agencies – still live in exile," he says. One must bear in mind that many have fled the "Donetsk People's Republic" for political reasons. They will only return when the Ukrainian flag flies over their home country again.
Double pensions and higher prices
Economic reasons, on the other hand, were the motivation for 60-year-old Oleg to return to Donetsk. He left Russia because of the high rents. When the fighting began in Donbass, he, his wife and their granddaughter fled to the southern Russian city of Rostov-on-Don. There, he quickly found work in a company. But the rent was very expensive. Now, says Oleg, he lives in Donetsk again and is "relatively well off." The employment agency found him a job as a mechanic for the public tram company; his salary is paid punctually.
In addition to his job, Oleg receives two pensions, a Ukrainian one and a Russian one. He receives 1,500 Ukrainian hryvnia (64 USD) in the Ukrainian-controlled Donbass region and 3,000 Russian rubles (48 USD) from the "Donetsk People's Republic." He says, "All pensioners I know draw two pensions. How else can you survive?" Prices in Donetsk are twice as high as they are elsewhere in Ukraine.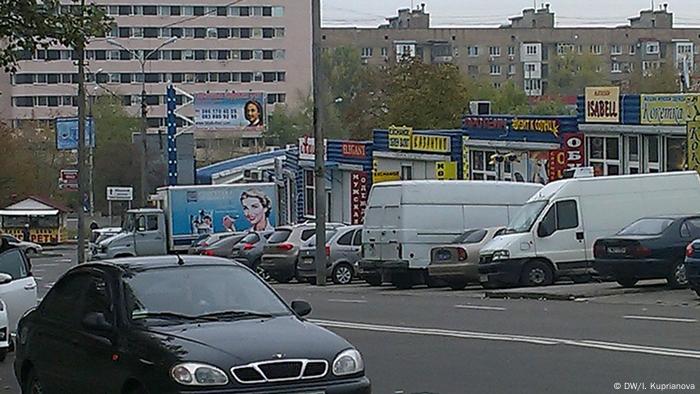 Life in Donetsk, at least on the surface, appears to be quite normal
Fewer people want to leave Donetsk
The Organization for Security and Co-Operation in Europe (OSCE) Special Monitoring Mission to Ukraine confirms that refugees are returning to Donetsk now that fighting has halted. "But we still do not have any figures," says Irina Gudima, who works for OSCE in Ukraine.
A change in migration out of the country has been observed. "Before the war, 2.3 million people lived in the 26 cities in the region not controlled by Kyiv. At the beginning of October 2015, there were 520,000 fewer people living there," says Volodimir Paniotto from KIIS. According to Paniotto, the number of people who still want to leave the region has halved of late: only six percent of people surveyed by the institute wants to go.
Insecurity remains
Larissa is among those considering leaving Donetsk after having returned. "Many people in the city possess weapons. No one knows what will happen tomorrow," she says. Heating and hot water systems often break down. Then again, neighbors and friends have returned to Donetsk. "The city is not as empty as it was a year ago," says Larissa.
She recalls the days before the war when she traveled to Europe as a tourist; in a tour group, she met different people from Ukraine with whom she still stays in touch. The young woman says, "I find solace in telling myself that everything will get better, that we will no longer have to pass roadblocks to meet friends, go on vacation or buy groceries."