Not much has happened since Steve Bannon, the far-right populist and former strategist for US President Donald Trump, launched his Brussels-based foundation, the Movement. The news initially made quite the stir in Europe, with headlines such as "Bannon Boarding Europe." Now, there is silence, particularly in countries in Eastern Europe currently led by right-wing governments.
The Movement has not been a topic of media or political discussion in Poland, the Czech Republic, Slovakia — not even in Hungary. At least not until Bannon's visit to Prague Castle on Monday, where he met a German politician with Czech roots from the far-right Alternative for Germany (AfD) party. Of course, photos were taken of the two together and spread through social media. It seems they had one primary goal: grab headlines.
Since the controversial Helsinki summit between Trump and Russian President Vladimir Putin, right-wing nationalists in Eastern and Central Europe seem to be keeping their distance from their US counterparts, particularly the government in Warsaw. The current rapprochement between right-wing circles in the US and Putin is suspect to many Poles. The Polish ruling Law and Justice (PiS) party and its chairman, Jaroslaw Kaczynski, traditionally keep Moscow at arm's length.
Read more: German politics fragment as support for big parties erodes
Hungarian Prime Minister Viktor Orban, meanwhile, is giving the impression that the solidarity he is aiming for with other right-wing European politicians, such as France's Marine le Pen and especially Italian Interior Minister Matteo Salvini, should be brokered by one person: him.
€20,000 for a Bannon speech
In Hungary, the support of someone like Bannon would instead be more like a disruption. It is also possible that the connections between right-wing US ideologues and Budapest are simply less extensive than many thought. Bannon's contact in Hungary is Maria Schmift, an Orban ally and leader of the House of Terror museum, which deals with the crimes of communist regimes in Eastern Europe and especially Hungary.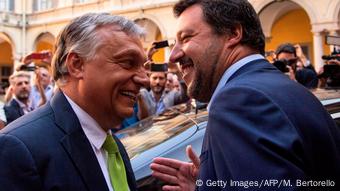 Orban and Savlini: Two of Europe's leading right-wing politicians
In May, she invited Bannon to a conference about the "future of Europe." In the cafes of Budapest, rumors spread that Bannon received a fee of €20,000 ($23,000) for his speech. The conference was financed with money from Hungarian tax coffers.
Some sources contend that Bannon's Hungarian connection primarily runs through a former deputy assistant to Donald Trump: Sebastian Gorka, a US citizen with British-Hungarian roots. Gorka frequently appears on the right-wing US television channel Fox News as a security analyst. Together with Bannon, Gorka was part of Trump's campaign and moved to the White House after winning the election — and then quickly moved back out.
Founded in 2017?
The Movement was reportedly founded in January 2017, not last summer — and not by Bannon, but by Brussels lawyer and politician Mischael Modrikamen. He represents the Parti Populaire, a party with some far-right factions; and though it is a national party in Belgium, it receives most of its votes in the French-speaking region of Wallonia.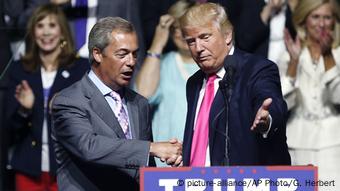 Farage, a vocal Trump supporter, is hoping to boost right-wing populism in Europe
In an interview with DW, Modrikamen said that in 2017 he tried to get in contact with Bannon and Trump's transition team. He wrote a letter suggesting that "The Movement should have a presence worldwide," said Modrikamen. "But at the time they didn't really respond."
Then, he was approached this summer by far-right British politician Nigel Farage, a key figure in the push for Brexit and a member of European Parliament for the euroskeptic party UKIP. "Then we met for lunch in London," Modrikamen said. Steve Bannon was also there, a short time afterwards making headlines with the announcement to establish a foundation in Brussels.
The aim of The Movement, says Modrikamen, "is to coordinate and connect the populist movements in order to develop common positions."
First Europe, then the world?
Now the foundation plans to focus on Europe, "and perhaps also become active worldwide," according to Modrikamen. He listed potential locations, including Israel, India, Australia, Latin America and Japan.
Financing for the foundation will come from private hands. "American donors, but also elsewhere," said Modrikamenr.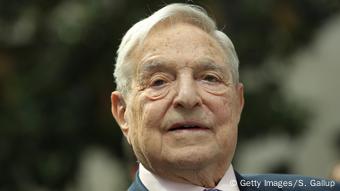 The Movement may be modeled on Soros' foundation, but it has much different aims
When the plans were presented in July, they said they wanted to model the organization after the Open Society Foundations founded by George Soros. The American-Hungarian philanthropist and former stockbroker supports initiatives in Eastern Europe working for open, democratic civil societies. The Movement is to be positioned as a conservative-nationalist rival of the liberal Soros foundations.
Whether anyone has yet been willing to donate money to The Movement is unclear. When asked about the donors of the foundation, Modrikamen replied brusquely: "Bannon will take care of that, but we can't yet talk about our backers."
The fact that Bannon is whipping up headlines once again, like this past Monday in Prague, could be part of a promotional tour for potential sponsors.
In the meantime, another right-wing populist is particularly busy in Europe: Hungary's Orban. He illustrated that most recently in the European Parliament, as the body voted on whether to initiate proceedings against Hungary under Article 7 of the EU treaty. It would be invoked in response to the Orban government's ongoing dismantling of the rule of law in his country. Theoretically, it could strip Hungary of its right to vote in the EU. In his speech, Orban claimed the allegations were all "lies and inventions," and that Hungary is only being punished for its refusal to accept migrants coming to Europe. With his speech, Orban was able to advertise his right-wing populist politics and draw attention to the idea of an "illiberal" society in Europe. And for that, he found a much bigger stage than Bannon's.
Additional reporting by Martin Gak