The weary rub Jürgen Klopp gave his face at the sound of the full-time whistle said it all. A home defeat to Hamburg, a side that hadn't won all season, leaves his Borussia Dortmund side with only seven points from seven games. That points total puts them in the uncharacteristic position of 13th in the Bundesliga table, and this on the back of two sparkling Champions-League displays. The return to the bread-and-butter football has been a sour one so far this season.
Schalke's defeat to Hoffenheim didn't exactly leave coach Jens Keller looking any happier. Although Schalke have never won away against Hoffenheim, they were expected to bounce back from a disappointing midweek draw against Maribor. Such has been their form of late that one good result has been followed by a bad - the Ruhr derby win preceded their Champions-League draw - but this weekend provided a further twist.
For the third week in a row, both clubs have played two games a week. While neither are alone in this plight - Klopp even acknowledged this in pre-match press conference - it has been a factor in their form. It's not just that the rival clubs are winning and then losing, it's the rollercoaster manner of performances that have sparked concern.
Injuries prove expensive
Without the likes of Marco Reus, Nuri Sahin and Ilkay Gündogan, Dortmund will always struggle. Their Champions-League performances have been exceptional, but in the league the lack of creativity and stability from those absentees have shown that determination and plenty of running isn't enough to win games.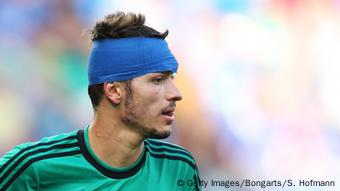 Schalke have been brave, but that isn't enough in the top flight
Eric Maxim Choupo-Moting has made the absence of Jefferson Farfan all but irrelevant, but it's in defense where the issues are coming up, due mostly to injuries to captain Benedikt Höwedes and Sead Kolasinac. On top of that, the general organization, or lack thereof, has been a concern that the club appeared to have rid themselves. Its reoccurrence is not timely.
Change but more can be expected
Perhaps it is unfair on Hamburg to suggest that Dortmund should have beaten them regardless of the length of their injury list. In truth though, that is a case very much worth arguing. Mats Hummels was captain, and with the likes of Shinji Kagawa, Adrian Ramos and Pierre-Emerick Aubameyang in attack there's no denying there's enough quality on the pitch. Certainly players adjusting to the tactical side of the league, such as Ciro Immobile, can be granted more time but collectively more can be expected.
Schalke's current defensive injury plight - strikingly similar to that of Dortmund's last season - leaves them lacking in confidence at the back. Roman Neustädter is filling in at the heart of defense, but is it unreasonable to expect more of a fight from the whole team than just in the last twenty minutes? Joel Matip's two quick-fire yellow cards suggests a lack of temperament as well as a lack of maturity.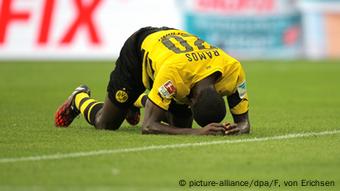 Hero to zero is no way to perform, but Ramos is learning
Concentration concerns
A great deal is expected of modern, professional footballers and coaches alike. Even more has to be remembered and produced. Injuries, transfers and fixtures all affect form, but fitness, particularly mental fitness, plays a big role. Adrian Ramos' clearance that led to Schalke's second goal in the Ruhr derby was a perfect example of poor concentration. The striker then refocused during the week scoring two key goals against Anderlecht, but against Hamburg it was his errant passes that led to Hamburg's winner. Julian Draxler was fantastic against Chelsea, but then lost his cool against Eintracht Frankfurt and was sent off.
Both Dortmund and Schalke look short of a lot in recent weeks, but perhaps concentration is the unspoken issue. Dortmund have conceded a number of decisive, late goals as well as starting poorly on more than one occasion.
Both side's busy schedule may well have hampered their ability to focus for long periods, but they must regain and hold onto it. If they don't, this season will continue to be a rollercoaster of form and emotion - one that Bayern will run away with once more.